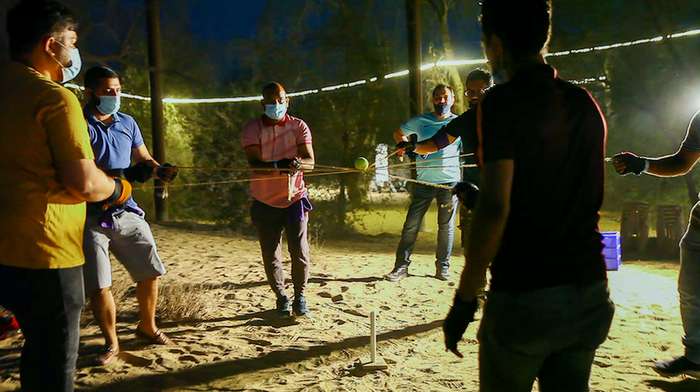 Cool corporate nights a motivated and productive team plays an integral role in the success of the organization. However, work-related stress, the pressure of meeting deadlines, keeping up with the pace of the corporate world, and endlessly long meetings can greatly hamper one's productivity and motivation. This is why it is important that you enable your team to take a breather from daily life stressors by organizing team building programs on a regular basis.
Not only will this help your team to bond together and take a much-deserved break from their work, but it also promotes and nurtures positive sentiments, such as compassion and care, while upholding the brimming enthusiasm. And when these team building activities are arranged in an outdoor setting, the benefits multiply.
The aforementioned and many other benefits of outdoor corporate team building activities can be availed with the help of Aventura Parks' new initiative, "Cool Corporate Nights".
Cool Corporate Nights at Aventura Parks
Maintaining its reputation as the best outdoor adventure park in Dubai, Aventura Parks has come up with another new endeavor called Cool Corporate Nights. This initiative aims to motivate teams to perform better, develop problem-solving skills, and engage in fun activities.
We offer three different corporate programs. Let's take a look at them:
1.
Adventure Park Fun
Priced at AED 125 per person, Adventure Park Fun features more than 80 activities and as many as 24 ziplines. It starts with a meet and greet session, and from there on, guests can enjoy a host of fun-filled and adventurous activities. It includes adventure park general admission tickets, gate passes for Mushrif Park and up to 3 hours in the adventure park.
2.
Aventura Competitions
If you want to amp up the corporate program and promote a healthy competition among your team members, choose Aventura Competition.
This program entails numerous fun challenges and immersive activities that will keep your team engaged throughout the duration. Apart from 1.5 hours of healthy competition, they will also get to spend 2.5 hours in the adventure park.
The team is provided with a fully air-conditioned tent, and a host of activities that are arranged for them in the fully-lit park surrounded by nature. Each member gets an adventure park general admission ticket and a Mushrif park gate pass. It costs AED 200 per person.
3.
Aventura Spirit
Aventura Spirit is a special team building program that encompasses elements of experiential learning. Teams set custom objectives that align with the company's mission and requirements. It is available at AED 300 per person.
Like the other two programs, it also starts with a meet and greet session to break the ice and set the tone for the challenges and activities that will unfold during the program. Guests are served welcome drinks. They will also have access to the fully air-conditioned tent and other facilities of the park.
This program also includes admission tickets and gate passes to the Adventure Park and Mushrif Park. It includes 1.5 hours of facilitated team building activities and 2.5 hours of Adventure Park fun.
Beat the Summer Heat and Work Stress Together with Cool Corporate Nights
As it's the summer season, most people are confined to the four walls of their homes because of the heatwave. This means reduced physical activities and no interaction with nature. What if we tell you that you can participate in adventure-filled activities with your peers and colleagues without worrying about getting a heatstroke? That's exactly what Aventura Parks offers.
We have changed our timings keeping in view the scorching summer heat in Dubai. The park now opens at 5 pm and closes at midnight. Furthermore, there are air-conditioned tents available for team building programs. Bear in mind that the park remains closed on Mondays and Tuesdays.
Why Should You Choose Aventura's Cool Corporate Nights?
Still not convinced? Here are some compelling reasons to book Aventura's Cool Corporate Nights right now!
Physical Activities
Most jobs in the corporate world require employees to be seated all day long. This impacts their physical health, which ultimately affects their productivity. On the other hand, when they engage in physical activities regularly, it boosts their mental and physical health. They become more attentive and focused.
So, by booking a team-building program at Aventura Parks, you can provide an opportunity for your team to take part in fun-filled physical activities. Our adventure park challenges will keep them engaged while improving their physical fitness.
Morale Booster
After a tiring duration of meeting deadlines, conducting meetings, and working on long reports, your employees need a morale booster. And Aventura offers just that. Our team building programs will help boost the morale of your employees as they will indulge in fun-filled activities and challenges that will prove to be a respite from their mundane routine.
A Changed Environment
While conducting team building activities within your office premise can also prove to be beneficial, since the backdrop and setting remain the same, the impact isn't significant. Aventura's corporate team building programs offer a change of environment. As the park is set in the heart of nature, it provides employees with an opportunity to get reconnected with nature and appreciate its beauty.
In all, Aventura's Cool Corporate Nights is a unique initiative that offers abundant benefits. Book your desired program now and give your team something to look forward to other than work and deadlines.