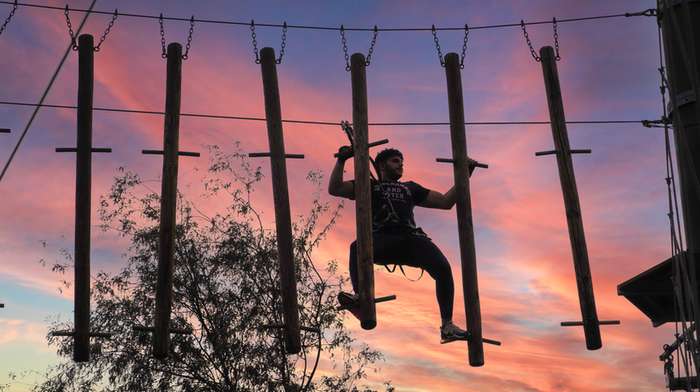 Summers in Dubai can get hot, sweaty, and exhausting. Yet it enriches our lives with some of the greatest experiences and wonders ever. Beach time, sunbathing activities for adults, games, and thrilling activities for kids to make summertime amazing. All while staying away from the screen times and harnessing their physical, emotional, cognitive, and motor skills to the fullest.
Aventura Parks – New Timings for Summer to Beat the Heat
Aventura Parks holds a paramount role in presenting a range of fun-filled, thrilling activities in Dubai that aim to improve physical strength and well being. 
This outdoor adventure park in Dubai continues to cater to the visitors during these intense temperatures too. With revised opening hours, Aventura keeps the entertainment alive and your energetic spirit high.
Visitors can now explore the park from 5 o'clock in the evening to midnight. These timings apply for the summertime only. So you can escape the extreme afternoon heatwave and make the most of the cool evening breeze. Moreover, the park stays open during the weekends, thereby ready to be the perfect retreat time to spend some quality time with your family. The park remains closed on Mondays and Tuesdays.
Benefits of Visiting Aventura Parks in Summer-time
Aventura Parks offers a blend of nature and nurture in a beautiful Ghaf Tree Forest. It harnesses the natural essence and helps instill the beneficial takeaways as kids and adults play and have fun.
On this note, let's take a look at some of the benefits that you and your young ones can avail with a walk and run through the green spaces at Aventura Parks:
1.  Escape the Scorching Summer Heat
We all are quite well-versed with the intensity of the summer heat in Dubai. The average daytime temperature in the summers is around 40 degrees. However, it can easily escalate up to reach 50 degrees and become really hot and humid. During these times, air-conditioned indoors are your savior.
The academic institutions in Dubai witness long summer breaks, making it challenging for the parents to keep their children indoors. Filled with bustling levels of energy, children long to go out into the free spaces and put their energies to use. Taking nature field trips to Aventura Parks helps them learn and grow in a safe, healthy, and competitive environment. Since the park has changed its timings, catering to the summertime in Dubai, you can take your little ones along with you without worrying about the scorching heat.
2.  Sharpens your Mind and Body
Taking a walk in the vast green spaces is the secret ingredient that sharpens your mind and body. While some may combine the positive outcomes of trail walks with the treadmill ones, they are clearly not the same.
Breathing in the fresh air, seeing hues of forest greens and browns, chirping of the birds, and even walking across leaves and tree-branch-filed paths provide an elevated experience. The slight pinch of unpredictability gives distinctiveness to it.
With the ongoing daily pressures, one can feel overburdened and exhausted. Just taking some time out and going for a walk in nature can magically help rejuvenate the mind. Moreover, with the revised timings of Aventura Parks, one can even go for a walk after work timings. This relaxes their mind, gives them adequate sleep, and helps them start the new day with full energy.
3.  Camping in the Woods
Aventura Parks organizes camps for kids where they can learn new skills in the heart of nature. The Eid break camp has just concluded. However, the summer break camp is just a couple of months away. Parents have the liberty to choose from the single-day camp or the weekly camp for their kids. What makes Aventura's camps so unique and convenient for parents, especially working parents, is that we are able to keep your children entertained, happy, and constantly learning new life skills from 9am-6pm. 
The camping tickets are inclusive of adventure park access, lunch, unlimited water, and a gate fee for entering. Along with that, your kids will get a certificate of participation to acknowledge tons of exciting indoor and outdoor activities they undertook.
4.  Thrilling Activities
Kids of this era are intelligent. They keep their parents occupied with never-ending adventurous spirits. However, there are times when parents cannot keep up with their pace and tend to focus on other routine chores to keep a balance. Therefore, taking your kids to Aventura Parks can serve to be a viable option in keeping the energies of the kids in check. All while developing and enhancing their social, mental, physical, motor, and spiritual skills during the early years of development.
Aventura Parks is equipped with Ziplines, rock climbing, Leap of Faith, Himalaya, Jacob's Ladder, Cat Walk and other challenges. While you might be looking for just an adrenaline rush, it will give you muscle contraction, increased adrenaline along with burning calories and building strength. So much so that it gives your body the much-needed liberation after a monotonous and indoor work routine.
Summer-time Fun at Aventura Parks!
Aventura Parks stays true to its essence when it establishes a healthy connection between nature and learning. While most of the entertainment facilities cater to indoor activities, Aventura Parks continue to keep its gate wide open for its entrants.
Kids get to utilize their brimming energies, and adults are bestowed with an opportunity to relax and rewind while alleviating any signs of stressors, anxiety, and depression. Once you exit the gate and walk home, your energies will replenish, balance is maintained, and you will be all prepared to take on your daily tasks.