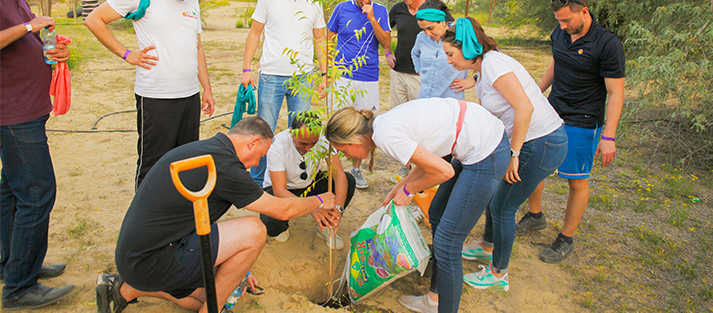 Aventura Parks offers intuitive, engaging team building programs that can help your employees unplug from their routine, mundane life and enjoy exciting and fun activities outdoors.
These team building activities and programs are designed to boost employees' morale, confidence and develop a sense of trust among them. They promote teamwork that leads to improved productivity. And as we all know, a satisfied and productive workforce contributes a lot to the success of an organization.
Want to know more about how Aventura Parks' corporate team building programs can benefit your workforce? Take a look at the top 5 team building activities available at our facility and how they can improve teamwork in your organization:
Top 5 Team Building Activities at Aventura Parks
1.
Mission Impossible
As exciting as its name, Mission Impossible lets you be the "Tom Cruise". Each group must elect a performer who will have to pick up objects off the ground through a system of pulleys on trees and posts.
This is a fun activity as it promotes trust and encouragement. The group has to unanimously pick a member who will represent them in this activity; thus, eliminating inter-group competition. Furthermore, while the performer picks up the objects, others will cheer for them. This shows signs of encouragement and interdepartmental cohesion.
2.
Building Shelter
You must be wondering what's so fun in building a shelter in an open space. Surely, it is a group activity, but there's no element of fun in it. Right? Well, Aventura's going to prove you wrong. We have added an element of fun and excitement to a simple task, such as building a shelter. Let's proceed further and see how it will takes place:
For this activity, the workforce will be divided into different teams. Each team will have to build a tent. The most exciting part here is that half members of the team will be blindfolded, while the rest will have their hands tied. They will have to figure out a way to communicate and collaborate properly. The team that builds their tents first wins the competition.
It is basically a process orientation task that promotes creative thinking. Team members have to exhibit optimal communication, time management and problem-solving skills. Furthermore, this is one of the many team building activities at Aventura that create a sense of trust among the workforce. Team members, in this activity, not only play to their strengths but others' as well. This helps them to achieve a common goal by working together. And this is exactly what an organization needs to grow and prosper.
3.
Spider Web
Spider web is another team-based activity. Members are dependent on each other as they are blindfolded and entangled in a spider web. And they have to get out of the web without touching the silk strings. The task isn't completed unless every team member comes out of the web.
This is one of the best team building activities if you want to access how your team works in collaboration. It teaches them how they can pass testing times, clear obstacles and face challenges when they are together. One person has to don the hat of the leader during these difficult times and guide others.
4.
The Bell
In this team building activity, a bell is hung at the height of 8 meters. Team members have to get together and create a structure long enough so that they can ring the bell in the given time. The team that completes this activity at the earliest wins the competition.
This task requires ample planning, optimal utilization of resources and time management. Each member gets to contribute when creating the structure. Through this activity, the workforce can understand the importance of planning, assigning duties and making contributions, no matter how insignificant they seem. As every help counts, no matter how small their contribution is, it will be valuable if the team ends up winning this activity.
5.
Circle of Trust
If you have created a 'circle of trust', you and your team can accomplish any goal.
"Circle of Trust" is one of the most engaging team building activities at Aventura Parks in which teamwork will be tested in the truest sense. In this activity, you will have to face a sand storm, and the survival of your team lies in staying connected with the rope. While holding ropes, participants will have to complete a series of challenges and achieve their common missions.
This activity infuses elements of coordination, co-operation and trust among team members. It teaches them the importance of working together, supporting and motivating each other and risk-taking.
A Final Word
Apart from the ones discussed above, there are numerous other fun-filled team building activities included in our programs. We have both indoor and outdoor facilities where these activities can be performed by the entire team. Companies can also create customized programs based on their requirements and objectives. So, if you want to give your team a break and boost their productivity, plan a corporate team building event at Aventura Parks. You will see a noticeable improvement in their performance and coordination among different teams.