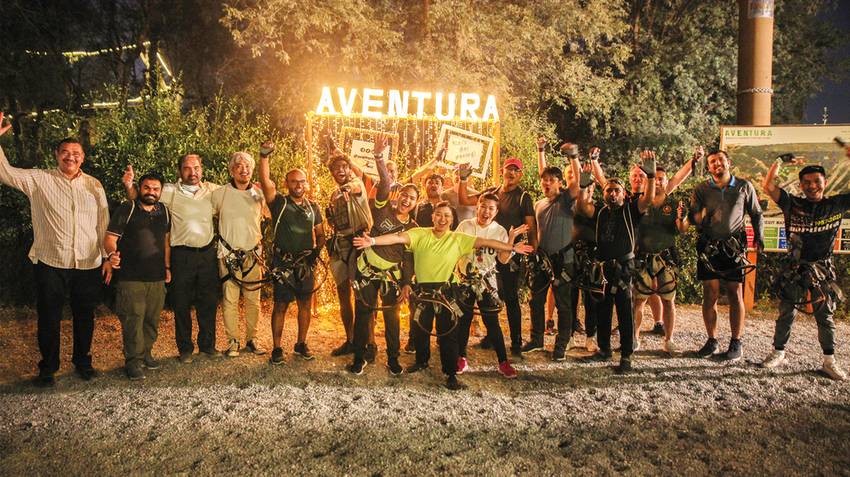 Today's ever-expanding digital technology, designed to boost engagement and performance, contributes to the stress and burnout pandemic. Spending more time facing screens, tablets, laptops, and smartphones increases anxiety and burnout levels. The major emotions associated with digital burnout are overwhelming exhaustion, detachment, lack of accomplishment, sense of ineffectiveness, fatigue, and feeling of cynicism.
However, setting aside time each week to go on a walk and remind ourselves of the fantastic pleasures nature has to offer is more necessary than ever. Whether it's simply going for a jog, trek or spending a few days camping off the grid,  team building activities positively influence individuals burned out from working on smart gadgets all day.
Aventura Parks – A World To De-Stress And Avoid Burnout In The Modern World
Imagine trees as dancing professionals whose routine is choreographed by the wind. The chirping birds are busy creating a medley that will relax your tedious nerves. At the same time, engaging in adventurous outdoor team building activities will allow you to break free from the claws of the digital world.
Aventura Parks, an adventure park in Dubai, effortlessly demonstrates the brilliance of such riveting and fun-packed outdoor activities. These activities are embedded in the very middle of tall trees, eager to help you detox. Our team's mission is to ignite an unparalleled calm and bliss within you. The natural environment of our park will let you escape from the modern world.
It is a guarantee that spending time in the magnificent Ghaf tree forest will rejuvenate your mind and heart. You will spend a day without any haze of discontent and filter. Under such circumstances, stress and digital burnout will lose ground, and the wondrous day void of exhaustion and pessimism will unfold.
To create this foreseen future, our park offers the following mind-blowing benefits and solutions in the form of team building activities:
Diminishes Mental Fatigue
Overdoing it at work, overdoing it on the PlayStation, and overdoing those marathon Game of Thrones watching sessions are just a handful of the things which exhaust our brains. Because of these habits, our brains seldom have time to turn off and normalize. It is precisely what they do cheerfully when we go outside or participate in fun team building activities.
Mood Elevation With Natural Light
We spend too much time indoors, thanks to smart gadgets or long work hours. Even when working from home, people don't follow a strict schedule and end up spending most of their time indoors in front of screens.  Consequently, exposure to natural light is limited. And it goes without saying that poor illumination is related to ill-health impacts such as eye strain, headaches, exhaustion, tension and anxiety.
Moreover, lack of natural sunshine negatively impacts the mind, leading to diseases such as seasonal affective disorder (SAD). Seasonal depression is particularly frequent during winter when there is low sunlight. If we don't receive enough natural light in our houses, it may make our days drearier than they need to be.
Hence, Aventura Parks welcomes you to participate in its team building activities set in the beautiful outdoor adventure park. These include Adventure Fun Park, Adventure Word Hunt, and Aventura Tribes to name a few. They give a significant boost to serotonin production. Serotonin is a happy chemical that sends messages to our brain in order to control our mood. Sunlight exposure has much to do with how serotonin is created in our systems. Thus, it's no wonder that we feel happier and more alive on sunny days.
Fights Depression And Anxiety
Exposure to green spaces such as setting off on a natural trail or water bodies such as seas and lakes significantly reduces the symptoms of depression and anxiety. It fosters a therapeutic response in our bodies. Consequently, the production of the stress hormone cortisol reduces. At the same time, the levels of dopamine and endorphins increase, promoting happiness.
To experience this thrill, you can book your slot for The Spider Web. It is one of our finest team-building outdoor activities. When your team works together, it will steer you through difficult times, conquer obstacles, and solve challenges.
During these difficult times, one person must take on the role of leader and guide others. You will feel supported in the presence of team spirit, which will help to alleviate digital burnout and anxiety.
Most significantly, such team building activities diminish the need for smart gadgets and video conferencing tools to interact with your family, co-workers and friends. They tackle the dire issue of social isolation, and you can build cordial relationships with your co-workers and friends.
Engage in Team Building Activities at Aventura Parks
Spending time outside should be viewed as an opportunity to recharge your mind and spirit. Team building activities at Aventura Parks will assist you in digital detoxing, alleviating the symptoms of depression, stress, and anxiety. They will help you feel fulfilled after a week of having your eyes and minds fixated on digital screens. Hence, do not wait too long! Go deep into nature, even if it is for a few minutes.