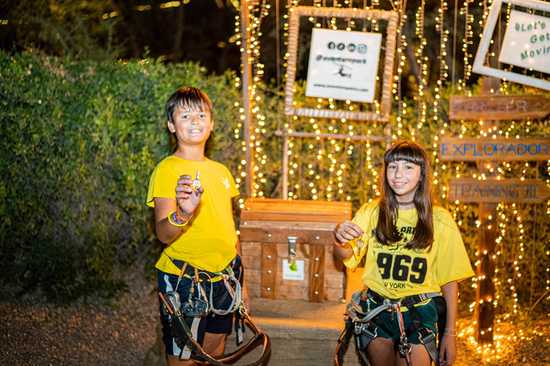 Summer Forest Quest Woodlands offers a sea of explorations for people of all ages. Equipped with a natural tendency to seek answers to curiosity, woodlands are a healthy ground for all inquisitive people. With a million hues of browns and greens coupled with other colors of flora and fauna, the woodland floor and sky is a sight to behold. The variations are amplified with moisture, casting variations on variations. Mingled with stones, khaki trees scarred by forest animals and insects, and moss resting on the soil signifies a droplet of paradise.
Nestled in such a natural habitat is the all-famous Aventura parks of Dubai. An adventure park set in nature, it embodies a range of activities for all age groups to help them utilize their brimming energies and learn new skills.
Forest Summer Quest: Let's Get Started!
Aventura Parks has recently opened up the Summer Forest Quest featuring a hunt for the mystery key in the woodlands of Mushrif Park. So, embark on a search hunt through all the 5 circuits and find the correct mysterious key that opens AVENTURA'S TREASURE chest filled with cash and prizes worth up to 39,000 AED. However, make sure you figure out the right key out of the many hidden keys!
Fun Filled Days…and Nights
While the explorer within the child is all set to find the hidden mystery key in broad daylight, the fun continues on the starry nights too. Summer Forest Quest features Aventura's Forest Night games where children can test their cognitive abilities and planning skills via board games. Special glow-in-the-dark bracelets are also distributed to all visitors so that they can make their way through the challenges and obstacles and find the hidden keys. It simply adds to the fun during the starry nights!
Tickets and Timings, the 2Ts!
Specially crafted to be a perfect summer retreat for your children, Aventura Parks remains to keep its gates open from 5 pm to 12 am from Wednesdays to Sundays (Closed on Mondays & Tuesdays). For participation, you can either choose between Aventura's General Entry Ticket for 3 hours at ranging between AED149 – AED195 or simply benefit from the Summer Special Offer of AED 75 , instead of AED 95 for a single circuit.
The evening timings for the Summer Forest Quest allow the visitors to enjoy more during the cool summer nights and keep the fun and entertainment alive. This offer remains valid from Monday 9 May till August 30, so make sure your children do not miss out on this unforgettable experience!
With that, take a look at some of the viable reasons that Aventura's Summer Forest Quest is surely the one to experience.
Read ahead to know more:
1.
It Builds Flexibility
Physical and mental development goes hand-in-hand. However, there are times when the balance is commonly disrupted and the focus is naturally inclined towards academic studies. With the initiation of Aventura's Summer Forest Quest, parents can ensure that the physical aspect of their child's development is equally focused upon. Experts believe that the body structure and behavior during the juvenile stage reflect on their adulthood. Therefore, parents are keen to instill a healthy and an active lifestyle amongst their children.
The all-encompassing activities of Aventura's Summer Forest Quest provide excellent outdoor team building activities for children. As the child jumps from one task to another with a joyful sense of accomplishment, their physique secretly benefits from it. It helps strengthen their muscles, joints, and bone structure, and improves flexibility and agility, thereby strengthening their immunity levels.
2.
Prolonged Attention Span
Children are curious little beings. Their desire to seek answers takes them to new places. Their appetite to learn is never-ending. This inquisitiveness turns out to be quite challenging, especially if your child is also hyperactive. Therefore, it works best for the parents to enroll them in Summer Forest Quest and put overflowing inquisitiveness to use.
This outdoor time works therapeutically for children. They take the challenges and activities seriously and aim to win them. For that, they remain focused, looking for the details, efforts, and inputting immense hard work to near the winning trophy. 
3.
Learning Outcomes to Take Home
Completing adventure challenges yourself remains the most effective way to learn and acquire any new skill. Outdoor games work in a similar manner too.
The learning outcomes from the Summer Forest Quest hold a valuable role in instilling life-long lessons. Communication skills, team-building exercises, problem-solving, and amalgamating them all in a rightful manner require skill and experience, and Aventura Parks helps you to perfect them.
Together, all of the time spent in the Aventura Parks endorses the children to encounter new processes and amazing experiences at a tender age. The learning outcomes hold an instrumental role in building a sportsman's spirit in themselves, so they can handle competition better, which is extrapolated in adult life as well.
4.
Development of Creativity and Learning
Life is incomplete without creativity. The more creative you are, the more likely you are to stand out from the crowd and do something different, which will benefit you in the long term.
Spending more time in nature helps to stimulate the child's imagination. They are more likely to come up with fresh ideas and artistic creations to complete the games and challenges in Forest Summer Quest. 
5.
Develop an Appreciation for Nature
Nature is essential for the survival of all living things. It must be fostered and protected to the greatest extent feasible. When your child plays outside, they are in direct contact with nature. Spending more time in its presence fosters the development of love and devotion to nature.
Nature is diminishing at an alarming rate these days. Given the current situation, instilling a love of nature in children from an early age is critical. When children spend time in nature, they will become more conscious of topics such as deforestation and global warming, which are currently important concerns. With a growing realization, they will grow and become more vocal on these topics, thereby contributing towards making an effort for society.
Treasure Chest to Take Home!
Summer Forest Quest, nestled in the heart of nature, at a time when the cool summer air blows and the nights are clear, is fully equipped to give your children an experience of a lifetime.
So, if your child is brimming with curiosity and hyper energies, it is your time to send them away on a hunt for a mystery key. Make sure you do not miss it out. Who knows, it is your child who finds the mysterious key and takes home the valuable prize…and the bling!