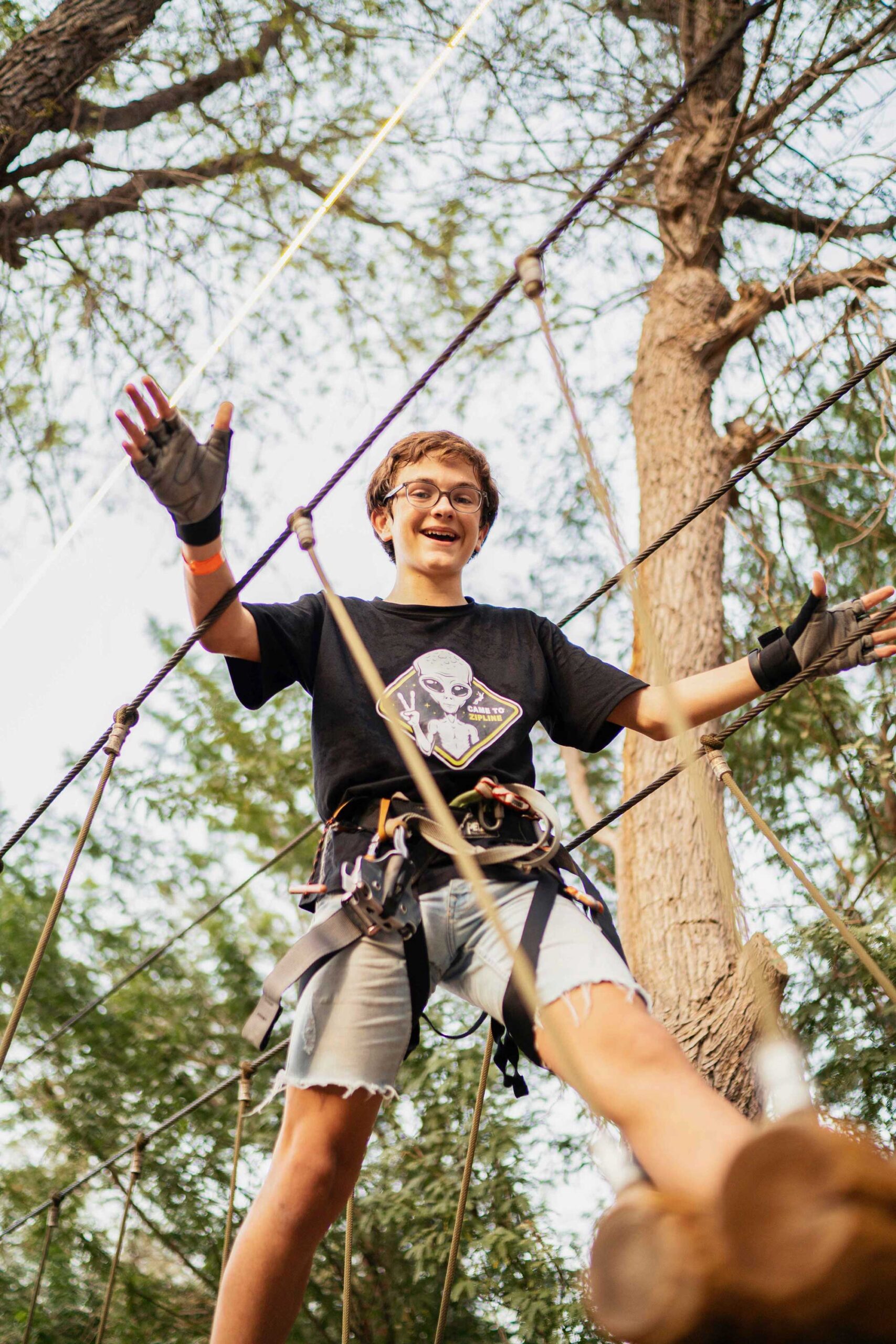 You might already be distressed over your kids' excessive screen time as a parent. And now, since winters have finally set in, it has brought all the reasons for children to stick to their gadgets under the blanket. During such times, it's challenging to find a productive activity for your child that distracts them from digitalization. However, there's nothing better than introducing them to the outdoors. 
In this regard, Aventura Parks have already made all the arrangements for you. The largest zipline adventure park in Dubai houses clean air and wide open spaces to enjoy nature with adventure. 
As soon as you step foot on the premises, you'll know why sands and nature hold such a special place in our national identity. Still asking, what's so unique about the destination? Let's find out together.
Ground Yourself in Nature with Camping 
There's barely any other way to understand nature than coming face-to-face with it. With the same thought, Aventura Parks has launched seasonal camps for its attendees, preferably children. There are summer and winter camps to keep your childrens' vacations sorted in both seasons. 
Our camps offer a great learning experience outside the classroom, putting all the academic lessons to work.
The Adrenaline-rush with Aventura Challenges   
Aventura Challenges is a part of the destination, designed to relish all of your five senses and get life's stresses out of you. 
Climbing up higher on trees and other objects helps you understand the risks involved. Therefore, it makes you better at risk assessment. 
The adventurous section comprises four adventures: Leap of Faith, Cat Walk, Himalaya, and Jacob's Ladder. If getting out of your comfort zone is on your to-do list, these nerve-racking challenges will help you achieve this.
Have a Meaningful Team-building Experience 
Speaking of nature with adventure, how can we forget the epic team-building experiences that tag along? The team-building activities at Aventura are more than just providing outdoor space and team members. Our specially-designed programs increase candidates' productivity, creativity and leadership skills. 
Green spaces tend to improve our critical-thinking skills, ultimately upscaling our engaging and interacting power. Moreover, individuals who are exposed to the natural world encounter more self-control and discipline in their lives. 
At Aventura Parks, we encourage these abilities for the betterment. This natural environment broadens your horizon and makes you stiff, making you cross paths even in unfavourable weather. 
While residing in Mushrif Park is a source of pride for Aventura, the details are equally impressive. Ancient remains carved out of the sand, rock formations dating back years and limestone pillars rising from within. And there's no more powerful way to explore them than walking with a guide. All this is part of Aventura's nature trail. 
Proximity to nature is pivotal for improving your intellect, and we acknowledge the value of this event. This way, you can think more creatively, design your approach and observe the world inventively. While there's an ample range of fauna and flora, you won't be running on the discovery session anytime soon. 
Cherish a Close-up Encounter with Emirati Wildlife 
Wandering around the huge Ghaf tree forest, how can you not bump into the amiable furry friends? At Aventura Parks, you'll get an intimate session with your four-legged friends, where you can feed and play with them. Even if it seems adventurous, you'll be cuddling the bunnies afterwards. Besides the beautifully-nurtured animals, you'll find the environment soothing and relaxing. 
Overcome your Fears at Our Adventure Park 
Aventura Parks proves that residing in nature for a few hours is a therapeutic session. That's why it introduces us to its Adventure Park, which is as exciting as it's exhilarating. By featuring different circuits with different levels, there are various adventurous games to keep you sorted. We advise you to begin the venture with the lowest height and challenge yourself by upgrading to higher levels. 
Here, you'll be engaged in circuits named Rangers, Explorador, Thriller, Aventura, and Extreme. Psychology says that you can't eliminate your fears until you face them, and it's the best way to get the phobia out of your mind. However, nature with adventure at Aventura Parks helps you unwind with unfiltered oxygen and lush-green settings. 
Experience Dubai's Largest Zipline Park 
Get on the zipline zone if you're seeking something more courageous than adventures in Aventura Challenges and obstacles throughout the Adventure Parks. To your surprise, it's the largest zipline park in Dubai. The huge premises of Aventura houses 24 ziplines, 5 circuits, and over 80 obstacles promising breathtaking views of the Ghaf tree forest beneath.
Apart from the sightseeing, this thrilling experience helps in lifting up one's mood and reduces stress, blood pressure and the risk of cardiovascular diseases.
Book your Slot to Enjoy Nature with Adventure at Aventura!
Simply put, weekends in green spaces work miraculously for your mental health; it strengthens your muscles as well. In this regard, Aventura Parks makes it a go-to destination. The park has covered whether you want to spend quality time with old buddies, test your guts, or get rid of childhood phobias. The enormous outdoor settings make a delightful blend of nature with adventure. 
With incredible activities, friendly wildlife, and tranquil bushes, adventure awaits you at Aventura Parks.