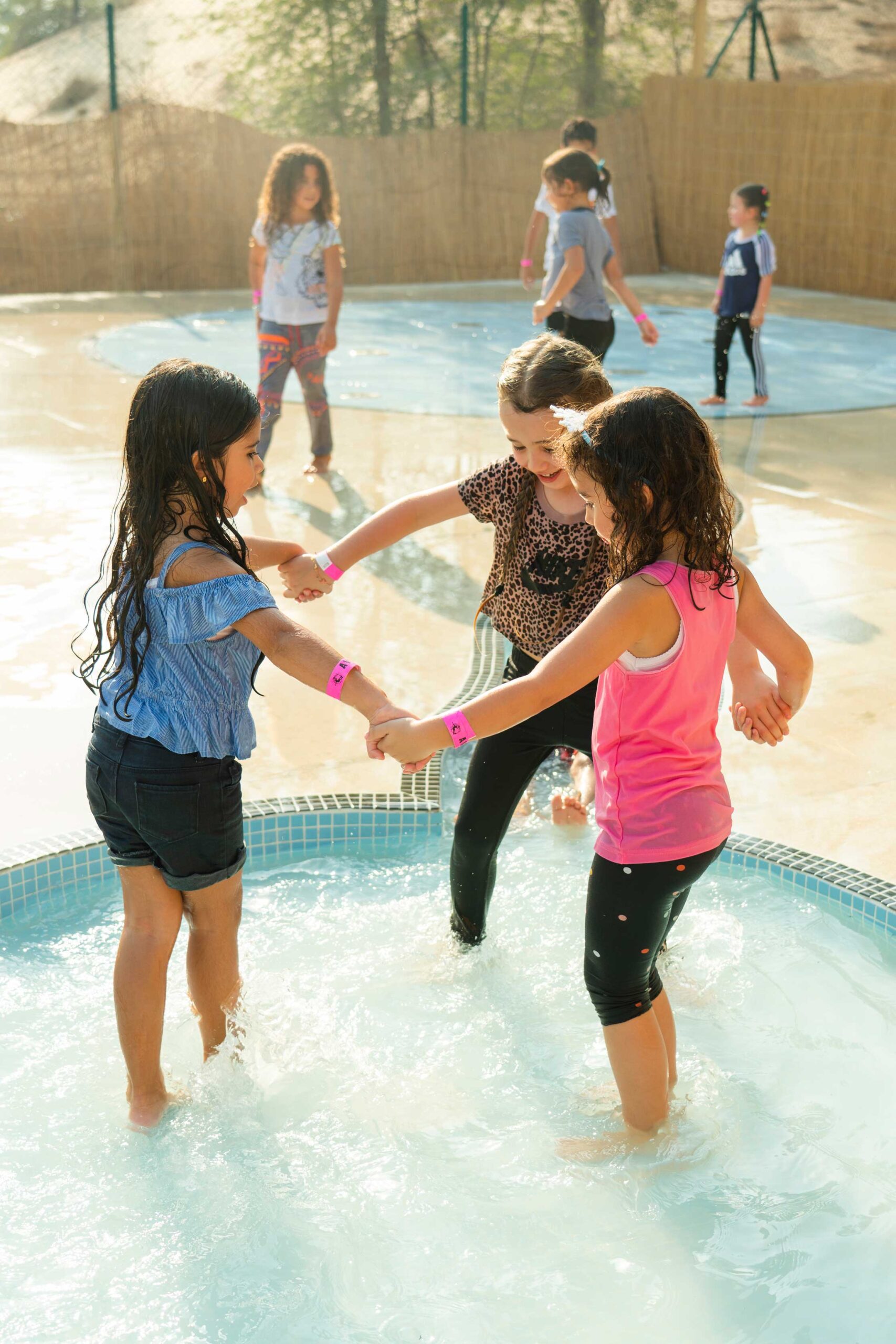 While technology has benefitted us in numerous ways, it has taken away something very important for us – the time spent outdoors.
Most people, including children, spend a lot of time indoors using their tech gadgets. They are hardly left with any time to go outdoors, indulge in healthy activities, or simply enjoy the beauty of nature. The lack of accessibility to outdoor places that allow people to do such things is another major factor why many spend time indoors.
Fortunately, Aventura Parks has covered you in this regard. The largest zipline park in Dubai is an ideal spot if you want to spend some time outdoors with your little ones. We have a specialized area called Discovery Play Area for children, where they can indulge in healthy outdoor activities.
While children play and learn at the Discovery Play Area, adults can relax and spend some relaxing time in our beautiful park surrounded by Ghaf trees. Find out more about the Discovery Play Area at Aventura Parks here:
Play and Learn at The Discovery Area – All You Need to Know
Who's Eligible to Enter Aventura's Discovery Play Area?
Toddlers and children up to 1.15m tall are eligible to play and learn at the Discovery Area. They can have a fun-filled experience for up to three hours. The packages start from AED 50.
What's Included in Aventura's Discovery Play Area?
Aventura's Discovery Play Area has several fun and engaging activities for children. There's a treehouse, fountain feature, and climbing structure. Children can also interact with animals at the park. Besides that, the facility includes a miniature rock-climbing wall and a short zipline circuit.
All these facilities foster different skills and play an active role in developing kids' physical and mental health.
Is the Discovery Play Area Safe for Children?
Yes, it's absolutely safe for kids. We follow international standard safety protocols to make sure the area is safe for everyone. Special attention is paid to the Discovery Play Area so that kids can freely explore it without any risk of injury.
Besides that, we have a team of playground monitors who observe kids over 4 years old while parents can enjoy the adventure park circuits. However, children below 4 years old have to be accompanied by an adult.
How is The Discovery Play Area Beneficial for Kids?
Our discovery play area is designed to offer numerous benefits for kids. These include:
Improved Physical Health
There are several fun activities that allow kids to play and learn at the Discovery Play Area. These activities promote physical fitness and overall well-being. For example, climbing the miniature rock-climbing wall strengthens their muscles and increases stamina.
Improved Mental Health
When children play outdoors, they are better able to connect to their environment. Studies have also revealed that playing outdoors boosts their mental well-being. And that's exactly what Aventura promotes.
Just like physical fitness, mental health also gets boosted at Aventura's Discovery Play Area. Activities in the Discovery Play Area foster sensory development and sharpen mental well-being, making kids strong not only physically but mentally as well.
Improved Motor Skills
The activities in the Discovery Play Area at Aventura Parks also help to improve their kids' motor skills. This is beneficial for little ones, in particular, as they are better able to coordinate the movements of the body's muscles to complete a particular task.
Better Emotional Bonding
Different activities at our facility require children to be grouped together and perform different tasks. This teaches them the importance of socializing and team building from an earlier age. Also, they get to engage with domesticated animals. It helps to improve their emotional bonding and instills empathy and compassion in them.
Wrapping Up
In a nutshell, Aventura's Discovery Area is the best choice if you want to take your children to an outdoor destination that's safe, offers abundant fun, and is located amidst natural beauty. Indeed, your little ones will love to discover, learn, and play at the Discovery Play Area of Aventura Parks.
Book your tickets now and get ready for fun times at Aventura Parks!