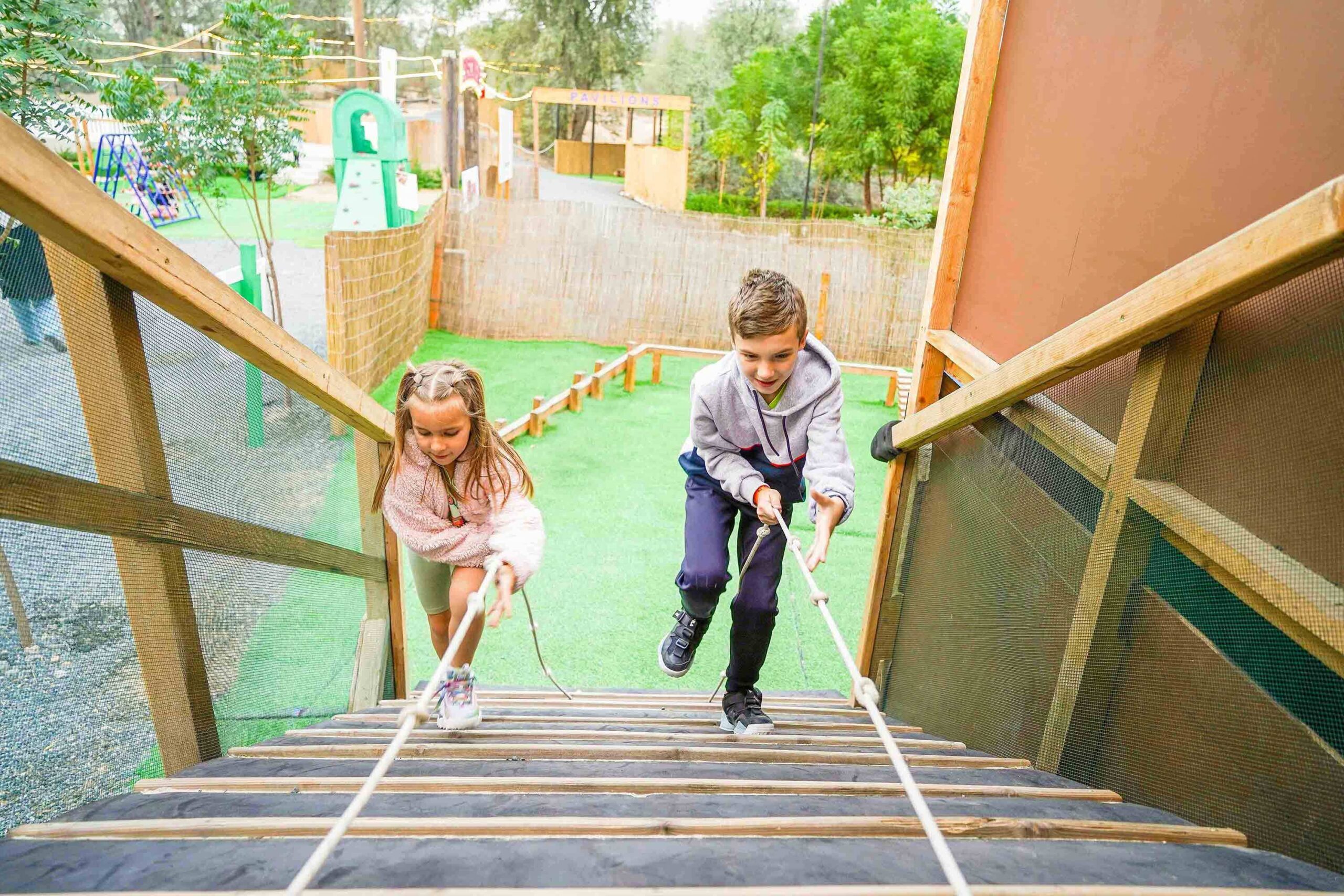 Every soul possesses a spark to go out and experience the adventure that offers endless possibilities. A peek inside the minds of these ambitious and aspiring souls will take you towards the frenzy of challenges and rollercoasters of crazy experiences. Aventura Parks in Dubai is a go-to place for all those brimming with never-ending energies. It will bring you out of your comfort zones and endure the raw nature of mother earth.
With its educational and full of adventure camps in Dubai, the adventure park aims to provide an experience to kids they will cherish forever.
The excitement for unveiling the adrenaline levels encapsulates kids like sunshine that brightens up the eyes and soul. The ravishing thirst to undergo is innate and comes like sky-sprung electricity, with a mission to go on. And Aventura's nature camps offer just that.
Aventura Camps– A Learning Experience for Kids
Aventura Parks, as the name suggests, is a popular and thrilling adventure park in Dubai. Through its immersive, engaging, and educational camps, it provides a learning environment for the young ones that are far away from the conventional style of education.
It is now back with its new session of camps for kids that starting from 14th Febraury 2022. 
Every single activity at our camp for kids satisfies the adrenaline rush, and silently infuses the valuable learning components. As the child learns the games and undergoes the physical games, they learn the spirit of sportsmanship, team-building activities, stamina building, while strengthening the bonds with fellow members.
Take a look at some of the key features of Aventura Camps:
Science Made Fun
Children are curious beings. During the early years of development, they remain inquisitive to this life. From taking the first step to uttering the first word, children like to explore different domains, sometimes by licking and others by fetching what entices them. This manifests that the explorer inside them has awakened and they are ready to take on the world.
At Aventura, activities and games are specially designed to not only keep the children busy but enhance thier learning. The exciting hands-on experiments and activities through Science Made Fun stimulate the growth of young minds, activate their inner curiosity, and nurture the building of imagination.
Arts and Crafts
Arts and crafts are important tools in child development as they stimulate their curiosity and creativity. Children learning camps at Aventura Parks incorporate this and provide an outlet for them to observe, express, explore, and excel through creating things. Furthermore, it gives young children the freedom of creating and experimenting to help them improve and enhance their physical, emotional, cognitive, and motor skills.
Nature Works
Nothing beats the quality time spent outdoors and into the natural woods. Kids are surely going to remember getting up close and personal with a wildlife animal, walking in the woodlands, preparing thier own meals, hiking through the forest with a map, feeling like Jack Sparrow. And this experience is what Aventura depends upon – bringing the children close to the heart of the forest.
The outdoor activities part of Aventura Parks' camps teach kids a lot of things, while allowing them to create amazing memories. Furthermore, these camps are designed to providing them with unlimited health benefits.
Team Building
Team building exercises remain an excellent and enjoyable way for children to develop their social skills and confidence. During the Mid-term Break Camp at Aventura Parks, several games and fun challenges are organized for kids that require them to participate as teams. The team's rapport, cooperation, and efficiency grow as they solve various challenges presented in team building exercises. 
Through these team building exercises for kids, they develop communication, management, and leadership skills.
Adventure
According to studies, children hardly get to spend some quality time in nature, simply wandering and exploring, thereby limiting their growth. In that, it has greatly reduced the opportunities for kids to learn how to deal with physical obstacles and master their own negative emotions (fear and anger) in difficult situations.
Adventure activities at Aventura Parks' camps aim to tackle these negatives from the child's personality and eliminate them.
Zip Lining
Aventura Parks has earned the reputation of offering the best zipline adventure in Dubai. Suspending from several feet among the ground, through the rich forests, it reduces stress, burns calories, and a surge of accomplishment as your feet touch the ground again. Kids can enjoy this experience during the Mid-Term Break Camp.
Mid-term Camp Break – Prices and Timings
Outdoor activities of Aventura Parks can turn out to be our first mentor in absolute raw form, journey to self-discovery and self-love. With the introduction of Mid-term Camp Break, starting from 14th February to 18th February, it provides an opportunity for kids to learn and grow amidst nature. One can opt for the single-day camp of the thrilling and enthralling 5-days of competitive adventure. It costs AED 240 for one day and AED 840 for a complete 5 days.
The timing for these camps are from 9 am to 6 pm. An ideal ratio of 1:10 between experienced facilitators and students ensures that every child receives individual and quality time. Moreover, the aforementioned prices are inclusive of 2 snacks, lunch, unlimited water, and entry fee for Mushrif Park Dubai. Along with that, every participant receives a certificate of participation that acknowledges their efforts of overcoming obstacles and experiencing the thrill of these activities.
Experience the Essence of Adventure to its Core at Aventura Parks
Aventura Park is designed to uplift the child's development in a nature-enclosed environment. The wholesome experience of the new Mid-term Camp Breaks can bestow your child with unsurmountable advantages.