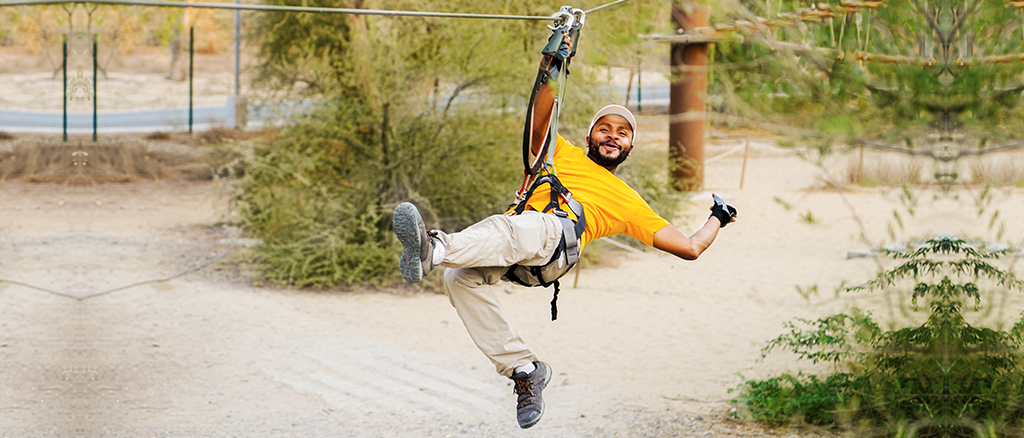 For some people, the purpose of having a vacation is to spend some relaxing time, surrounded by the beauty of nature. However, some like to enhance their experience by adding some thrilling and adventure-filled activities to their itinerary. For them, a dream holiday is much more than just sitting on a beach chair and sightseeing.
If you also believe vacations should be full of thrill, fun and excitement, give ziplining a try. A one-of-its-kind experience, nothing can beat the adrenaline rush it provides. It gives the feeling of not only flying but rushing through the air amidst the scenic beauty of nature. 
Take a look at the adrenaline rushing effects of ziplining on the mind:
A Sense of Freshness
It has been proven in research that being close to nature helps improve your health. It gives a sense of freshness, which is somewhat missing from our routine life as most of us tend to spend the major part of our day in cubicles, breathing recycled air.
Most places that offer zip-lining are surrounded by greenery. For example, the Zipline in Dubai at Aventura Parks offers views of Ghaf forest. Therefore, apart from enjoying the thrills this activity offers, you will be able to breathe in the fresh air. And when we breathe fresh air, it positively impacts our mind and body.
A Stress Buster
Ziplining gives a feeling of liberation – the feeling of not being trapped inside a cubicle, staring at the screen all day long.
The corporate world has certainly made our lifestyle hectic and stressful. The stress of accomplishing goals, attending meetings, preparing and delivering presentations, etc., can take a toll on one's mental and physical health. Activities like ziplining can prove to be true stress-buster since they take them away from daily, stress-inducing chores.
A Sense of Accomplishment
For first-timers, completing a zipline adventure is no less than a major accomplishment. Even though the experience offers a lot of thrills and excitement, it can still be a little scary for some. Imagine being in a position that's so high above the ground and jumping down. However, instead of falling, you soar through the air at incredible speeds. This is exactly what ziplining offers, except that you are harnessed and are being held by cables.
This sense of accomplishment can boost your confidence, self-esteem and give you an experience that you will remember forever. So, any time you feel a lack of confidence, remind yourself that if you can try ziplining, you can conquer any challenge.
Suppressed Functions of Mind and Body
Apart from evoking different feelings and sensations, the adrenaline rush caused by ziplining can suppress several functions in the body, including digestion, pain sensitivity and blood flow. During the zipline experience, blood vessels constrict. This allows the blood to flow to important organs such as the lungs and the heart. Furthermore, the process of slowed digestion causes energy to be conserved by the body. And its ability to feel pain is also temporarily suppressed.
An Efficient Version of Your Body
While some functions of the body, as discussed above, are suppressed, others get heightened. This helps to create the most efficient version of the body. It so happens that the adrenaline thrust results in a jump start of the body's system. Due to this, certain functions of the body go into overdrive. The blood pressure increases, higher levels of sugar are released, and there's a feeling of added strength as well. During this process, respiration also increases, which leads to muscles receiving more oxygen.
A Calorie Burning Activity
Again, it has more to do with your body rather than the mind, but worth mentioning since this is the effect of ziplining that not many know about. While it may seem that you are just flying through trees and there's no physical activity to burn calories, but you're actually doing a lot of physical work.
Firstly, you will have to reach the position of ziplining, which is usually at a great height and requires the participant to climb mountains or a lot of stairs. Then, you will have to firmly hold the carabiners while you jump from the position. This, again, requires strength and physical exertion that can result in the burning of calories.
Aventura Parks – The Best Option to Get the Adrenaline Effects of Ziplining
The largest outdoor park in The Middle East, Aventura Parks presents an opportunity to enjoy ziplining amidst the beauty of the Ghaf forest. The massive park houses 24 ziplines over 6 circuits, with one circuit entirely dedicated to ziplining. Promising a unique experience of zipline in Dubai, Aventura is certainly going to surpass your expectations.
As it is a harnessed activity, you can rest assured that the experience is completely safe. Still, it's important to follow every instruction given by the instructor to ensure your safety.
Apart from ziplining, you can enjoy numerous other activities in Aventura Parks. It is an ideal outdoor destination that has activities, which can be enjoyed by the entire family. This park is also a suitable option for organizations looking for Outdoor team-building activities and events.
Contact us now for more information on ziplining and other activities we offer.