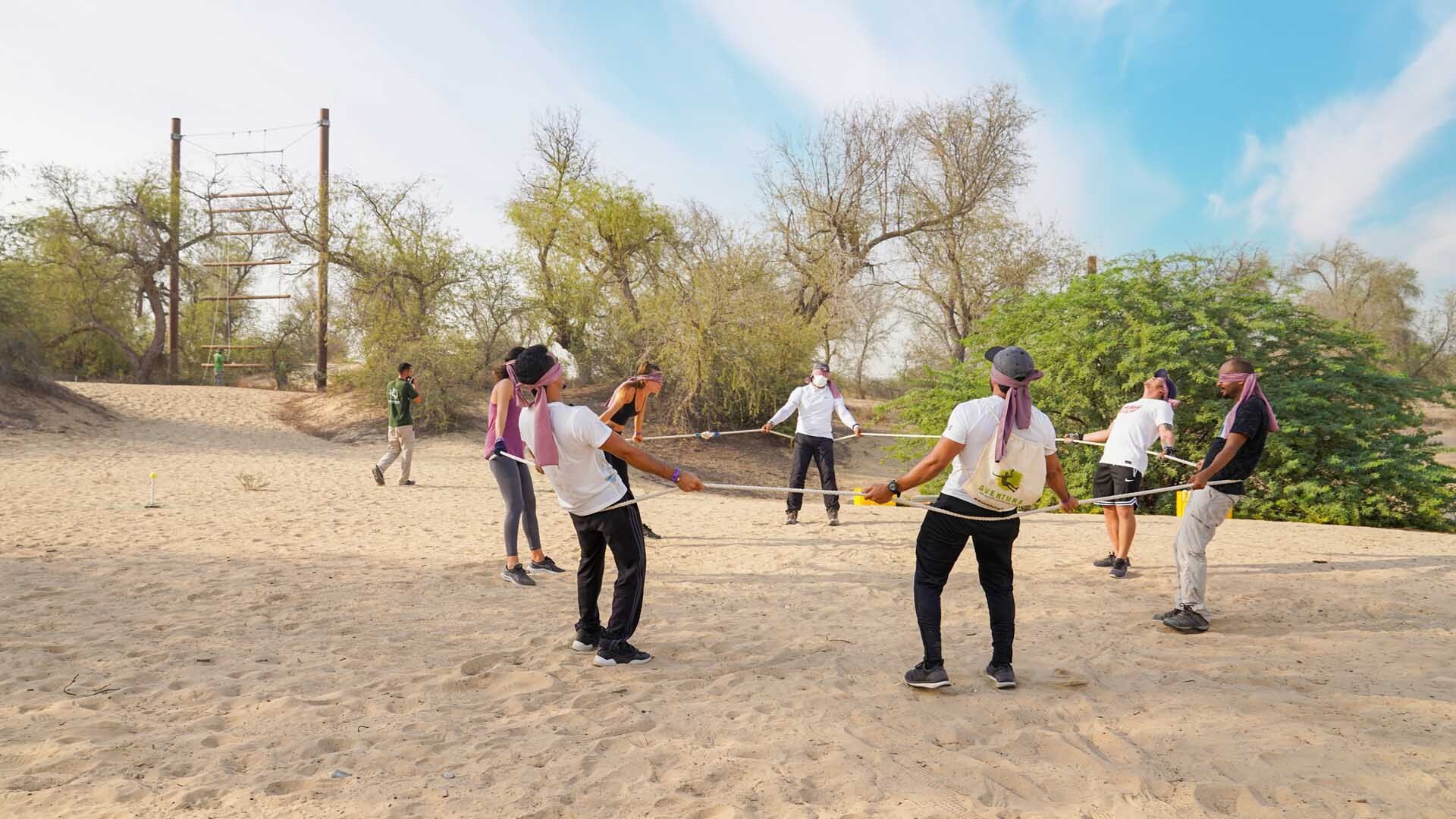 In this competitive corporate environment, employees hardly get time to bond, relax, and spend some time away from their tech gadgets. This adversely affects team dynamics and productivity alike.
A proven way to take their mind off work, add some fun to their routine, and ultimately, help them become more productive, with the added benefit of enhanced experiential learning, is the incorporation of team-building activities for employees.
Employers are quick to host occasional indoor team-building activities for employees as they provide them with an opportunity to take a breather from their often hectic and monotonous work life and spend some time bonding with their colleagues.
What To Expect From Team-building Activities at Aventura Parks?
Here's a rundown of some strong reasons why group building activities for employees at Aventura Parks are worth considering!
Natural Environment And Fresh Air 
Having a perfect theme for team-building activities is pivotal, and there's nothing better than selecting nature as your theme. 
Even science says that fresh air and exposure to nature boost mood and uplift creativity levels. This is where team-building activities come into the picture.
Aventura Parks' natural outdoor setting promotes well-being and helps reduce stress levels. 
Increased Engagement And Interaction 
At Aventura Parks, we offer unique outdoor and indoor team-building activities that promotes resilience and interaction. These activities expose them to dynamic team experiences where they need strong communication skills to win. Participating in these activities helps break down barriers and encourages open communication among team members. 
Change Of Environment Boosts Mood 
It's truly unique how nature can work wonders on our well-being and uplift our spirits instantly. In this regard, partaking in team-building activities at Aventura Parks is a perfect way out. 
Amidst the gorgeous Ghaf Tree Forest, they can think differently and approach challenges with a fresh perspective.  
Unlock Leadership Potential 
Research proves that creativity is vital in developing leadership skills, with more than 60% of CEOs acknowledging its significance. The settings at Aventura Parks help them visualise their growth as they return to the office post-activities.
Bring Resilience And Adaptability 
It can be tough to push ourselves outside our comfort zones in this age of technology. Sometimes, we rely too heavily on our devices and forget about the benefits of activities.
But when we partake in team-building activities both outdoors and indoors, it helps us develop many essential skills, such as adaptability and resilience in rugged environments.
Team Building Activities For Employees At Aventura Parks
Our corporate team-building programs follow tried-and-tested tactics with a focus on cognitive learning. These programs feature an array of activities that offer abundant benefits. Let's take a look at some of these programs:
Say Goodbye To Your Fear With Adventure Park Fun
Are you someone who feels a bit uneasy when it comes to heights? If so, you're not alone. However, you no longer need to let this fear hold you back.
Aventura Parks in Dubai is home to the biggest Zipline in the city, and it offers a wealth of health benefits. It might seem daunting initially, especially if you fear heights.
But conquering this challenge can be a great way to show yourself and your colleagues how brave you can be!
Bring Your Creativity To Work With Aventura Word Hunt
Aventura Word Hunt not only brings the entire team closer but brings forth their creative side as well. It is an interesting activity in which each team collaborates to find the hidden words. It splits the participants into groups, and the one with the highest score wins.
The activity contributes to a healthier and creative mindset. Moreover, exposure to natural settings stimulates innovative thinking. As everyone makes the most of their minds, they are able to curate an exceptional winning strategy.
Go Wild With Forest Scavenger Hunt
For this activity, the group is divided into teams; each team is given clues to find items in the forest. The goal is to complete the task within a specific time limit using the resources provided.
Mark Your Win With Forest Competition
Aventura Parks promotes collaboration, communication, and cohesion among colleagues with its exciting Forest Competition. 
As the name suggests, it entails a host of friendly yet exciting competitions set in the 35,000 sqm of space. These competitions help with building a camaraderie between teams that benefits them beyond these activities. 
It is one of the most exciting activities at Aventura that not only promotes healthy competition among employees but also plays a part in making employees develop awareness and play their part in sustainability and a green environment.
Wrap Up
To sum it up, Aventura Parks is a one-stop solution for enjoyment, excitement, and exhilaration, and the corporate world is no exception. Set amidst the beautiful nature, Aventura Park offers diverse team-building activities and games for employees. 
Simply put, all the adrenaline-rushing games will keep the employees energised throughout. If you're seeking ways to make your official trip unforgettable, you have already got your clue. 
Reach out to us now and get on the most adventurous corporate bandwagon with Aventura!