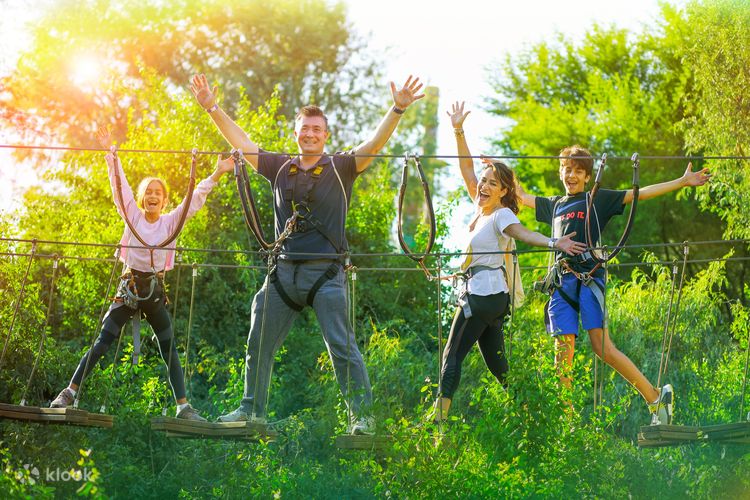 While its breathtaking skyline and towering high-rises attract millions of eyes, it's the adventures that set Dubai apart. Simply put, the UAE's pride, Dubai, is home to several adventure parks jam-packed with fun and excitement. 
Talking about incredible adventure activities in Dubai, there's no better option than Aventura Parks. This one-of-a-kind adventure park is perfect for adrenaline junkies seeking the ultimate rush. There's an adventure for every age group, which makes Aventura Parks an ideal destination for everyone. 
Are you excited to know more about what Aventura Parks has to offer to satisfy your adrenaline chills? Let's find out together.
Enjoy World-class Adventure Activities in Dubai at Aventura Parks
Located amidst the natural beauty of the Ghaf tree forest, Aventura Parks is the go-to place for those seeking something adventurous, fun, and exciting in an outdoor environment. 
While the natural beauty of the park nourishes visitors mentally, the outdoor adventure activities nurture them physically. 
With that said, let's take a look at some of the must-try adventure activities at Aventura Parks!
Enjoy Zipline Like Never Before
Amidst a beautiful fleet of trees and mesmerising scenery, flying through the air is more than just adventurous.
When it comes to Zipline, Aventura Park has truly hit the mark. The largest zipline park in Dubai houses over 24 courses with various difficulty levels. Whether you are a beginner or an experienced adventurer, there is a zipline level that suits your courage. 
Let Your Adrenaline Rush With Aventura Challenges
If you want to enjoy the moment by making the most of all five senses, Aventura Challenges await you. The enthralling section of the Park encompasses four adventures: Leap of Faith, Cat Walk, Himalaya, and Jacob's Ladder. 
Each program is designed to test your physical and mental strength as you climb up the trees and conquer each obstacle. With the completion of each adventure, you will feel bolder and more courageous than ever.
Test Your Guts At Adventure Park
Research has shown that spending time in nature can be therapeutic, and that's where our Adventure Park program comes in. It features a variety of circuits with different levels that cater to every preference and age group. 
You can participate in several experiences, such as Kickstarter, Forest Explorador, Adrenaline, Limit Breaker, and One Circuit.
Cherish The Local Wildlife
Adventure is everything that brings chills to your body, and Emirati wildlife at Aventura Parks is no exception.
Most people are scared of facing wildlife, especially children. Since Aventura Parks resides in the vast Ghaf Tree Forest, you will find Emirati furry friends in the park. 
The park is home to bunnies, squirrels, and other species that only add to your adventurous experience. While it's a treat for all animal lovers, it also helps alleviate fears of wildlife for those who are phobic. 
Partake In Facilitated Team-Building Experience 
When it comes to seeking adventure activities in Dubai, the team-building encounters at Aventura Parks are hard to forget. Our team-building programs will help you nourish your creativity and enhance your leadership skills. 
What could be more pleasant than improving your problem-solving and communication skills amidst nature? As you cross the high and low ropes together, you will feel an exhilarating mix of adrenaline and chills that will energise your entire body.
Let The Kids Explore Aventura Discovery
In today's digitalised world, children spend more time indoors glued to their gadgets than they should. The Discovery Play Area at Aventura Parks aims to reduce screen time, encouraging them to spend more time in nature while partaking in age-appropriate adventure activities. 
The idea is to strengthen their bonds with nature by adding to their scientific knowledge. They will discover various kinds of plants and trees in extreme outdoor conditions using their physical strength. Therefore, it's no less than an adventure for all the little hearts out there. 
A One-Spot Solution For Every Adventurer! 
In short, Aventura Parks caters to adventure-seekers of all ages, from kids to young adults and elders.
With so many options available, you will entertain yourself mentally and physically while embarking on unforgettable adventure activities in Dubai. So, if you're ready for an ultimate adventure spree, secure your spot at Aventura Parks right away!