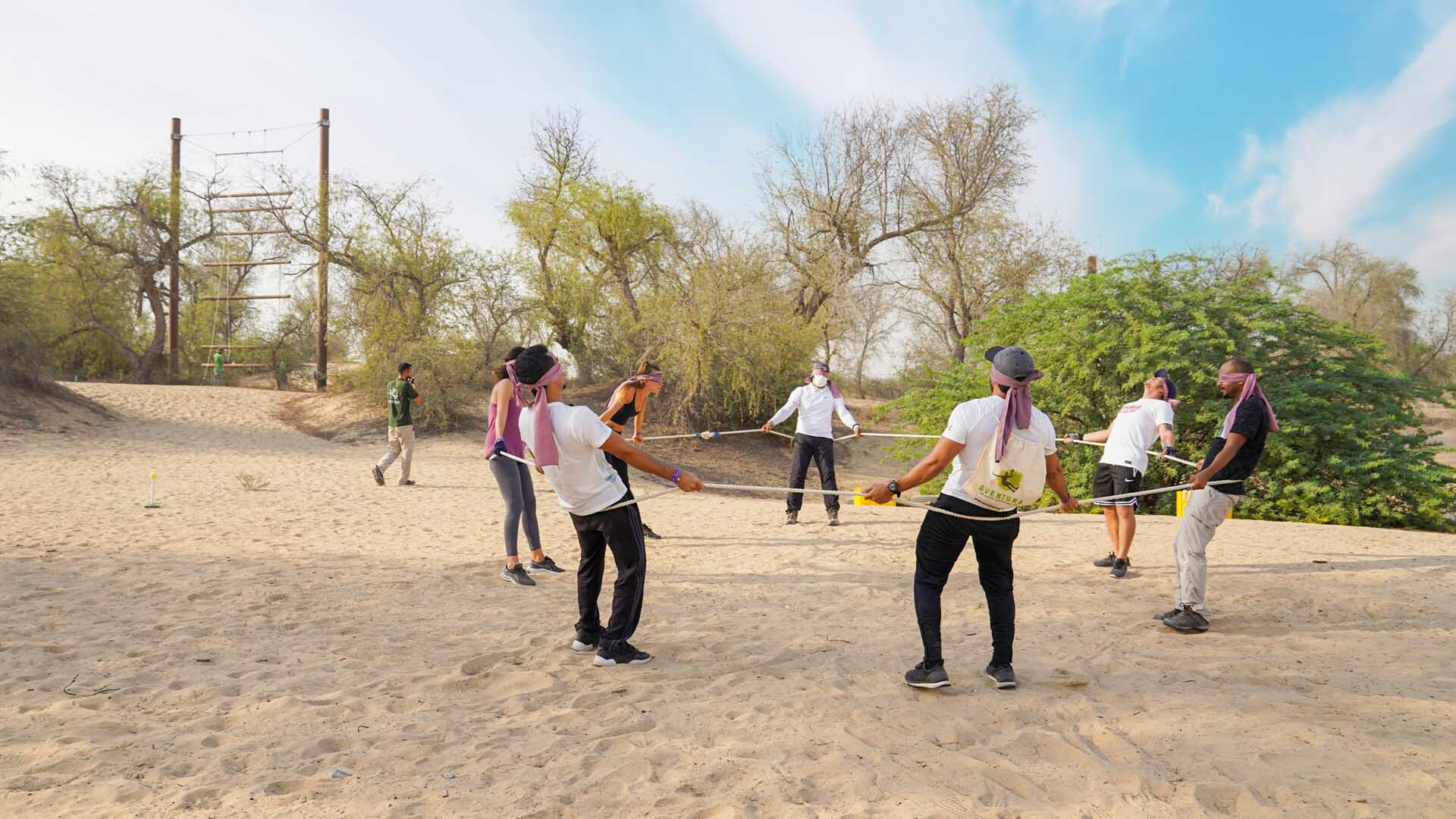 Team bonding is a clear definition of growth, progress, communication, and productivity. Manifesting the wondrous benefits of team building helps instill an adequate spirit of sportsmanship. Not everyone knows how to rejoice in success and accept defeat. With a mixture of differing personalities, creative minds, trustworthy relationships, and collaboration, members can experience the vitality of team building activities. Although it is slowly diminishing in recent times, predominantly due to the pandemic times, efforts are in place to rejuvenate is back.
Fast-paced economies like Dubai are already committed to harnessing the potential of team building activities. Organizing strong and effective team-building skills remains a top priority for many organizations. However, it is not something that can embed in oneself overnight. Instead, it takes time to perfect the vitality. Nevertheless, Dubai's top adventure parks have already sighted the need and incorporated outdoor activities for learning outcomes.
Aventura Parks- Rooted in the Nature
Dubai is known for holding a wide range of adventure parks for people to enjoy to the core. Diving into the deep waters to explore new heights, these adventure parks have all that it takes to give you the much-needed adrenaline rush. Each one of them have their own unique and distinctive features that makes them attractive. And there is one that embeds the beauty and wonders of nature along – it's the Aventura Parks!
Aventura Parks is deeply rooted in the heart of Ghaf tree forest in Mushrif Park of Dubai. Comprising 35,000 square feet of natural woodlands, it rightly encapsulated the essence of nature. From featuring a range of impactful programs and activities, it brings the visitors close to the flora and fauna of the forest. Zooming through the woodlands, children and adults like can see the power of natural elements. The experience caters to all ages, thereby giving them time to explore themselves while bonding with nature and family simultaneously.
With that said, take a look at some of the viable reasons why escaping to the outdoors at Aventura Parks can help your team to bond and perform better:
Interact and Socialize in the Heart of Nature
In the real world, one cannot function alone. Their ability to interact and befriend fellow people increases their productivity while bringing them closer to their final goals. Indulging in outdoor activities at Aventura can help your team to interact, socialize and make new friends. In addition, it allows them to find like-minded people. Furthermore, it can also help in conflict resolution.
Boosting Team Performance
Aventura Parks features several corporate team building activities. It requires each team member to showcase their skills towards overcoming the obstacles and completing the set task before other teams. As each member works towards a common goal, they can understand each other better as compared to when they are confined to the four walls of their offices.
After achieving success in team building activities, people acknowledge and better understand each other's strengths and weaknesses. There is also an opportunity for them to become acquainted based on interests and overcome any old grudge. This understanding helps boost their team performance in future projects.
To illustrate, imagine each team member contributing their best to excel in team building activities. This will also promote compassion, empathy, and communication skills. Also, it sets a good pace and fine tone for a positive teamwork atmosphere. Each team is different, with a diversified range of skills. Team-building activities at Aventura will hone their skills, making them proficient and contributing something unique.
Healthy Competition
Taking part in team building activities at Aventura is a great strategy to bring out the competitive side of each member. The competition will yield increased productivity and stimulate team spirit. Furthermore, it will also encourage employees to collaborate and acquire problem-solving and decision-making skills.
Amidst nature, teams will encounter unexpected situations. They will feel challenged, which will provoke them to showcase their best skills. In doing so, creative and innovative ideas will surface to outsmart the opponents.
Thereafter, individual teams will work together to implement those solutions for achieving success. During this teamwork, they will understand the significance of collaboration and communication.
Time For Celebration!
After any sports game, the winning team celebrates and has fun which motivates them to continue their winning streak. Subsequently, the feeling associated with victory urges them to exceed everyone's expectations and embrace their best selves. Moreover, cheering encourages them to bring their best selves to the next level.
Fostering Innovation And Creativity
Individuals' imaginations tend to be more vivid when they are in the company of people with whom they feel at ease. Therefore, effective team building activities at Aventura not only bring them closer together but also contribute to a more prosperous and creative mindset.
Unlocking Leadership Potential
Leaders arise in the simplest of activities. Indeed, Aventura's team building activities can feed into a person's confidence. After all, 60% of the CEOs cite creativity as the most important leadership quality, so why not invest and harness it! Also, you might discover that the quietest of you is incredible at inspiring others. Such people can easily visualize development opportunities and guide you towards success. All they need is encouragement to display their leadership potential.
Hence, these outdoor activities are the change everyone needs if they feel like their growth has stopped within indoor premises and their potential needs to breathe fresh air!
What Are You Waiting For?
If there is laughter, a sense of excitement, and a few Instagram posts, then you are on the right track of team bonding. Aventura Parks is jam-packed with diverse team building activities set in the middle of nature, which can help you bond with your children and colleagues.
To sum up, these adrenaline-rushing activities and games will keep the excitement going. Their foundation stands on creating opportunities for people to connect and interact in a meaningful way outside of their everyday lifestyle.