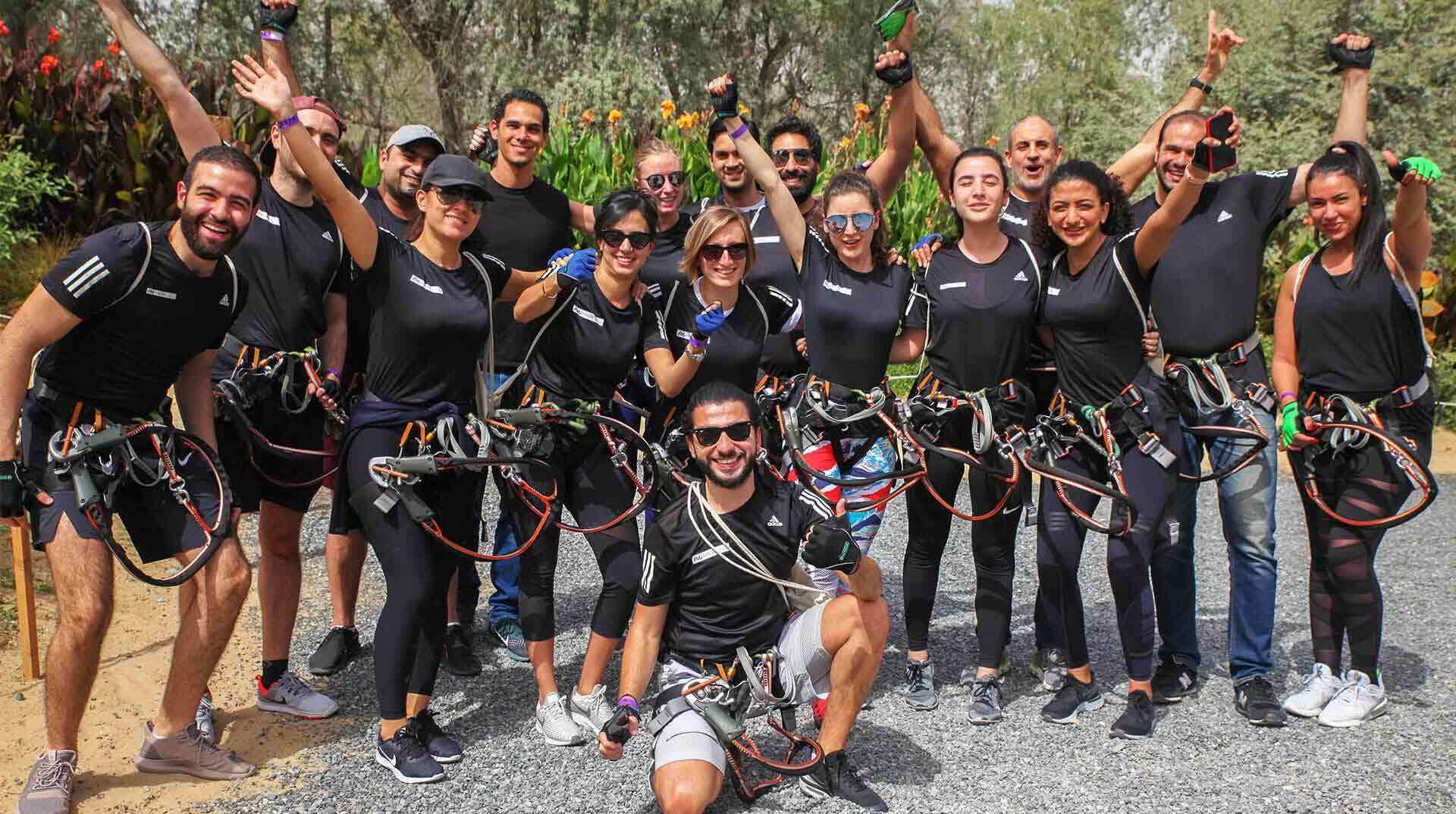 Corporate sectors are competitive in this modern era as the cutthroat competition demands every member of the company to put in their best efforts. The workload, the stress of meeting deadlines, and continuous interaction with digital gadgets can be tiring and affect the performance of employees. Resultantly, the company bears the brunt of it.
Taking out time for activities, walking in nature, or interacting with your team outside the working place can be a great start to refresh yourself and create a positive rapport with your peers. Furthermore, taking part in exciting team-building programs can strengthen the team's bond, motivate, and reinvigorate minds to show better performance, which, ultimately, benefits the company.
Now, arranging team-building activities within the premise of the office certainly benefits. But, if you are looking for some out-of-the-box ideas, you should go for outdoor adventure activities. And this is exactly where Aventura Parks comes in for the rescue. We offer plenty of unique activities and exciting team-building programs for both small and large-scale companies. So, if you are hunting for a place to take a break away, Aventura Parks is the savior.
Exciting Team-building Programs at Aventura Parks – An Adventure to Remember
Building its reputation as the top-rated adventure park in Dubai, Aventura Parks offers a list of the most exciting team-building programs, and as many as 300 plus organizations have tasted the unbeatable experience there.
Imagine walking, negotiating, playing, and taking part in activities based on life scenarios amidst trees dancing in the wind and the soothing sound of birds chirping. Even the imaginations make you get goosebumps, right?
At Aventura, we emphasize experiential learning to create a bond of empathy and a sense of equality among team members. The cherry on the cake, you can customize the program resulting in budget cuts as these activities are supposed to be enjoyed and not burn the pockets.
Corporate Team-Building and Development Program
Maintaining the trend of introducing something new intermittently, Aventura Parks offers exciting corporate team-building activities to develop trust and harmony amongst team members to increase the company's efficiency. We offer 7 different team development programs. Let's check them out.
1.
Aventura Tribes
This program comprises three factors; competition, collaboration, and celebration. Seems exciting? Yes, it is so because Aventura Tribe facilitates you to debrief your missions after each activity and provides communication and collaboration as key takeaways. Suitable for a group of 10-80 participants, this activity takes you through many different phases in the duration of 4-6 hours.
2.
Building Trust
TRUST is the main ingredient in maintaining the company's culture and ensuring productivity. This activity emphasizes self-analysis of trusting in yourself and your capacity to trust others.
The carefully designed scenarios and debriefs at the end assist in processing the experience. Communication, Agility, Strategic thinking, and Collaboration are the key takeaways you leave within the duration of 4-6 hours. This program also supports 10-80 participants.
3.
Navigating Change
Looking for outdoor places for team-building activities to exercise critical thinking? Aventura Parks have got you covered. Our Navigating Change activity can help your team understand that situations can take turns at times, and they should be on the qui vive. In the span of 4-6 hours, we teach the group of 10-80 participants how to handle the unexpected.
4.
Bargaining and Negotiation
In this team-building activity, you are supposed to gather materials from available resources and make an item. Sounds interesting? It surely is. Strategizing, negotiating, and assessing resources are the key features of the activity. You are obliged to complete the task in 3 hours with a group as big as 10-120 participants.
5.
Leaders in Action
Teamwork practices the principle of leading and following. Our Leaders in Action program gives players the chance to lead, follow, and provide opportunities to understand themselves and other team members. Based on the group size of 10-80 participants, this activity builds self-awareness in the time span of 4-6 hours.
6.
Culture Matters
With low physical activity, this activity emphasizes team culture. In Culture Matters, you are given challenges to solve as a team by negotiating, strategizing, and collaborating to successfully overcome the challenges.
Suitable for the group size of 4-20 participants, this program offers meals and 2 coffee breaks. It is a full-day activity, which includes pre-workshop prep of 2 hours. This activity is designed to reduce team silos, improve leadership capacity, and increase team performance
7.
Team Dynamics
Using the RMP tool, this activity helps participants examine themselves, others, and the barriers to effective teamwork. It is a full-day program giving 2 hours of a pre-workshop for the RMP report and debriefs suitable for the team of 4-20 participants.
Team-Building Outings at Aventura Parks
Need more thrill and fun? We offer exhilarating team-building outings to play in nature and make your day a jampack of adventure and fun. Let's take a look at them.
1.
Adventure Park Fun
Close to nature amidst trees, this is one of the most exciting team-building programs at Aventura Parks. It will give you a thrilling ride to Aventura's Ghaf forest. Including over 65 activities, 4 adult circuits with 12 to 19 obstacles, a general admission ticket, and more, this activity demands the participation of up to 220 members, and you can enjoy the adventure for up to 3 hours.
2.
Aventura Word Hunt
Given the quest of finding hidden works in the Ghaf forest, this program ends with a prize for the winning team. With a time limit of 4 hours, it is one of the best programs at Aventura for team-building.
3.
Forest Scavenger hunt
Suitable for 10-120 participants, it is another exciting activity to takeaway communication, collaboration, and fun with your colleagues. We also provide you with a guide to facilitate throughout the game.
4.
Forest Reflections
Do you love arts and crafts? If yes, this program is for you. The participants work together to create a big picture by joining pieces each member has created. Given the time of 2.5 hours, this activity strengthens communication and coordination skills.
5.
Forest Competitions
Aventura Parks never fails to introduce fun and engaging activities for everyone. Providing multiple activities, this program gives the urge to score higher, promotes communication and bonding, and is great for breaking the ice.   
Get in Touch Now & Participate in Exciting Team-building Programs
Aventura Parks offer an abundant team-building program for the corporate world, providing the opportunity to have an exciting day out. Reach us now to get more information about our team-building programs and activities.