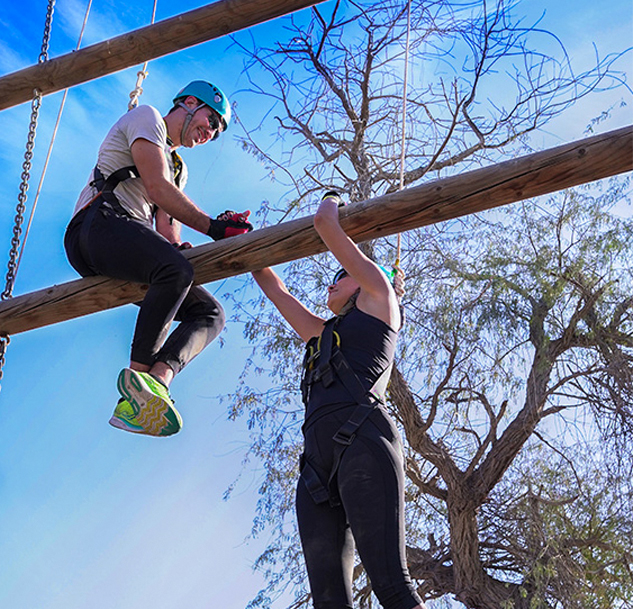 Have you ever seen someone driving a supercar at top speed? Or witnessed an individual enjoying the thrill of ziplining? Or seen someone wait hours to see a butterfly come out of the Chrysalis and capture the moment? Having witnessed such moments would have led you to wonder, who are these nerve-wracking people? Well, they are the ones who like to escape their comfort zones and experience the thrill of life.
From getting that adrenaline rush, or waking up to the breath-taking sights, or witnessing the new life of a butterfly, they want to live the moment. But it all comes when one breaks out of their comfort chains and opens up to the experiences. There might be some ups and downs, but it's all worth it!
Everyone has a comfort zone – their happy place, where they don't feel any pressure, anxiety or stress. It can be at work or in our personal lives. While having a comfort zone is certainly comforting, it can restrict your growth and potential. One feels scared to 'get out of their comfort zone' and try something new. But even before they try it, the feeling of anxiousness takes over, making it difficult to experiment with something they have never done before.
As stress-inducing as it may sound, it's actually liberating. When you step out of your comfort zone, you are actually giving yourself a chance to learn new things and expand your horizons. You break the chains of fear holding you back, take risks, enjoy the process, and get closer to success.
Aventura Parks – Allowing People to Escape their Comfort Zone & Enter their Growth Zone
Aventura Parks, being the largest zipline park in Dubai, offers a lot of adrenaline rushing activities that one must try at least once. However, some people, due to the comfort zone and resultant internal barriers they have created, are unable to go all out and enjoy these activities.
Aventura challenges and activities may seem intimidating by their looks. However, they can help you escape your comfort zone and experience something you have done before.
These are the Aventura challenges you must try with your friends and make memories that you will cherish forever:
Leap of Faith
It's a truly liberating activity that's going to test your limits to the maximum. To enjoy this thrilling experience, you will have to climb up a 5-metre tall pole, maintain your balance, and promise yourself that you'll escape your comfort zone. Then, jump from the platform and aim towards the ball. Failed to do this the first time? No worries, you get plenty of turns. So, climb that pole again and jump to hit the ball.
This 30-minute long activity offers an amazing experience. And the best part? It builds your stamina and endurance as well.
Cat Walk
This is certainly not a regular cat walk! It requires balance, concentration and a lot of courage. To complete this challenge, you will have to climb up a pole and walk over a wooden plank. Sounds easy, right? But the real twist is yet to come. You will be blindfolded during the whole activity. Now, imagine having to walk a narrow wooden plank at a certain height, with no support on both sides. That's the daring experience Cat Walk offers. If you fail for the first time, try again and see how far you can go.
Of course, you will be harnessed through this activity, which makes it completely safe. It's all mind-over-matter and confidence that will get you through this unique cat walk.
Himalaya
Test your stamina and energy levels by completing the Himalaya Challenge. As part of this activity, you will have to climb a 12-metre high wall. Once you have reached the top, you can enjoy the stunning and refreshing views of the Ghaf Tree Forest. It's a spot where you can capture some clicks for your Gram.
You can compete with your friends and see who climbs the wall first. Or you can perform this activity to test your own limits. Note down the time it took you to climb the wall, and compare it with the previous attempt. Did you break your own record? If not, give it another go.
Jacob's Ladder
Join up with your partner and climb Jacob's ladder. It's one of the most challenging activities that require a lot of balance, stamina, courage, and coordination. You will have to move up the ladder along with your partner. With the gap between the two rungs becoming increasingly wider, it will be tough to climb. How you manage to reach the highest level with increasing gaps is what this activity is all about. To make it even more fun and exciting, compete with your friends and see who reaches the top level earlier.
All the Aventura challenges are suitable for kids over 12 with a minimum height of 1.4 metres. Advanced safety precautions are followed, which make these activities absolutely safe for everyone. So, if you want to break the internal barriers and enjoy the real thrill of life, try these Aventura challenges with your friends, at least once in a lifetime. This is a decision you wouldn't regret!