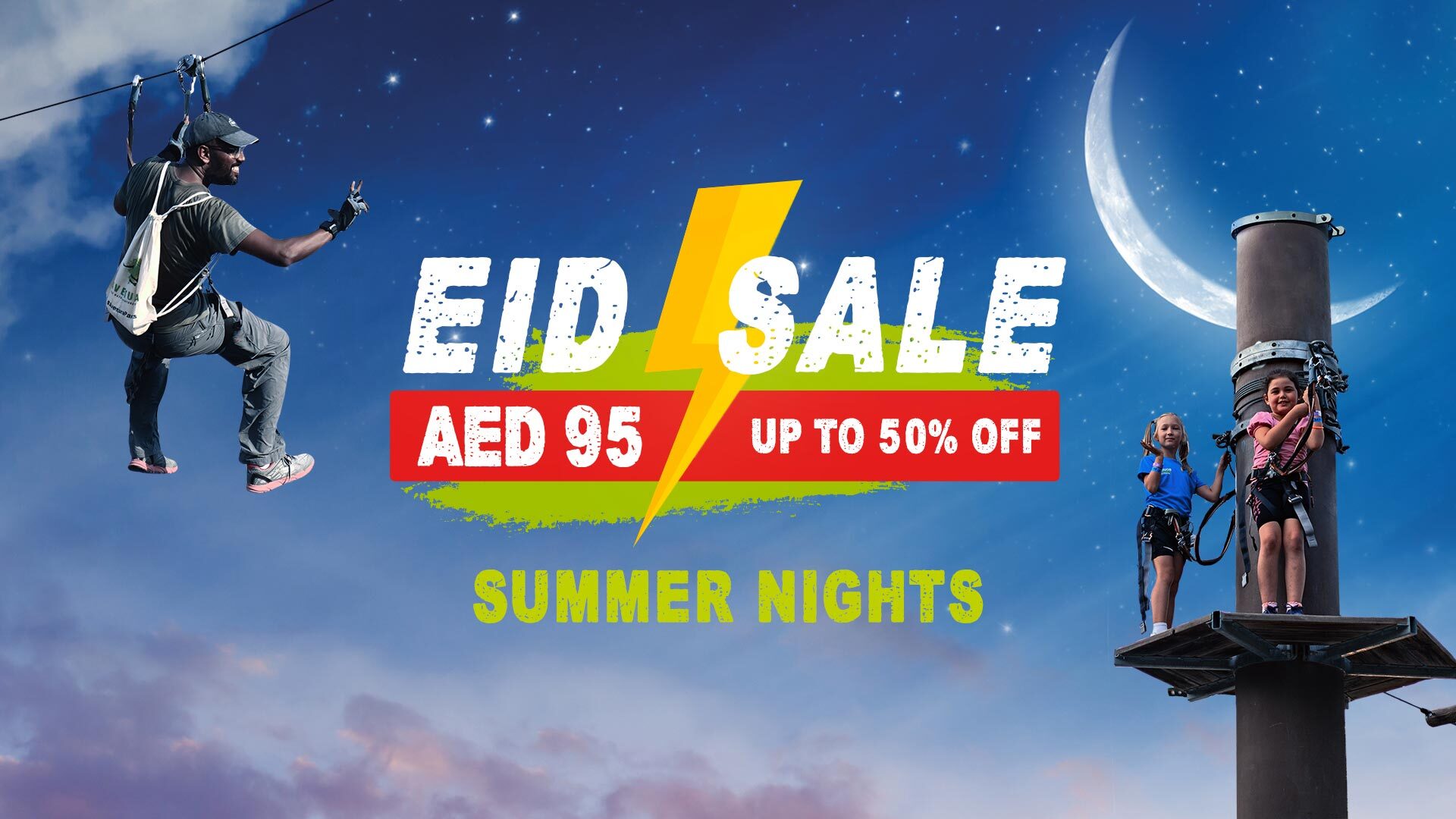 The Emiratis are all geared up to celebrate Eid al Adha, which is just around the corner. Invitations are being sent out for Eid parties, families are busy deciding menus for the feasts they will be hosting, and the markets are full of people looking for Eid dresses.
While these are the typical 'norms' of the Eid celebration, why not do something different and make this Eid extra special with your family? Doing this is certainly easy now as Aventura Parks has come up with Eid special offers.
Let's find out what Dubai's largest zipline park has in store for its visitors this Eid:
Celebrate Eid al Adha with Aventura Parks
Aventura Parks invites you to celebrate Eid al Adha with full fervor and festivity with your entire clan as it offers a massive discount of up to 50% on summer nights for AED 95 only. The park's timing has been changed keeping in view the scorching heat of Dubai. You can now visit Aventura Parks with your family or friends from 5:00 pm to midnight.
Online bookings are available only from July 4th to 7th. The validity of the purchased tickets will be from July 6th to November 30th. 
Things to do at Aventura Parks with Your Family
Explore Different Circuits
Aventura Parks features five different circuits with varying difficulty levels. These include:
Rangers:

Encompassing 19 easy challenges, it's particularly designed for young kids.

Explorador:

This one's for your explorers. The difficulty level is still on the lower side, but the 17 challenges are more challenging as compared to Rangers. It also includes ziplines.

Thriller:

Thriller brings the element of 'thrill' to your visit to Aventura Parks. It features 15 mid-level difficulty challenges. The biggest thrill, however, is the 166-meter zipline.

Aventura:

Want to try your hands on adrenaline-rushing activities? Try the Aventura circuit. It comes with 15 challenges including 3 ziplines in a row.

Extreme

: Extreme takes the fun to the extreme level with a 25-meter Tarzan jump. Furthermore, you can also surfboard through the trees. In total, there are 15 challenges, while the difficulty level is the maximum.
Take Part in Aventura Challenges
Suitable for people with a minimum height of 1.4 meters, Aventura Challenges offer endless fun, adventure, and thrill. These challenges include Leap of Faith, Cat Walk, Himalaya, and Jacob's Ladder. The duration of each challenge is 30 minutes; however, the difficulty level varies.
Go on a Nature Trail
Most people these days are too engrossed in their routine life to take time out and get connected with nature. Well, Aventura has got you covered in this regard as well. We have a fully guided nature trail that will allow you to explore the flora and fauna of the UAE. You may also encounter some animals, such as owls, hedgehogs, hares, gazelles, and Arabian foxes along with many species of birds during your expedition.
As a long weekend is approaching due to the Eid Al Adha holidays, you can spare a day for Aventura's nature trail and appreciate nature in its truest form. It will certainly refresh your mind, rejuvenate your soul, and calm your nerves. Take your kids along and let them learn more about nature.
Relax at Chill Zone
Once you have taken part in all the excitement-filled activities and completed those fun challenges, head over to the Chill Zone at Aventura and give your body some much-needed rest. It is basically a beautifully designed nature space set amidst tall trees where you will find an outdoor theatre, trampoline, and foosball table. Moreover, you can play various board games here as well.
Enjoy A Hearty Meal at Café Chris
No expedition is complete without delicious food, right? Aventura Parks houses Café Chris, which is a lovely eatery nestled within the facility. It features both indoor and outdoor seating spaces. You can find here a range of healthy snacks and beverages, prepared with love and served with care.
Wrapping Up
In a nutshell, Aventura Parks is a perfect place to celebrate any special occasion, including Eid Al Adha. So, head over to the beautiful park with your family and make memories you will cherish forever.