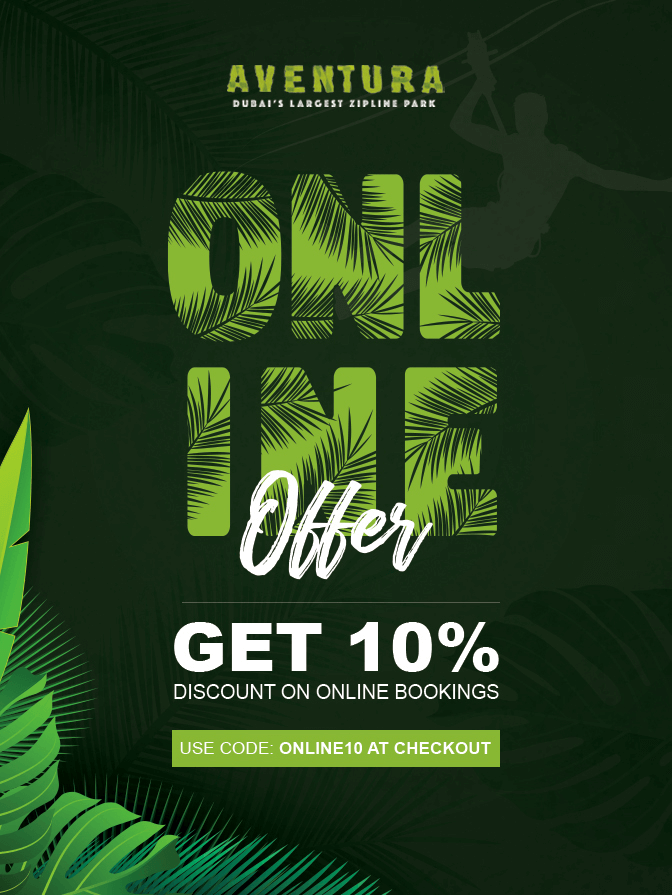 With the Eid-al-Adha holidays just ending and the meaty feasts are over, people are back to their routine. However, many are experiencing post-holiday blues as getting back to routine life or work after vacations always feel like a chore. Well, if you're also facing the same, Aventura Parks has the perfect solution for you.
The largest zipline park in Dubai, set in the heart of nature, has recently announced a 10% discount on online bookings – a perfect way to deal with post-holiday blues. Now, you can take part in all the adventurous and fun activities at Aventura Parks without worrying about your budget.
How to Get the Discount?
The process of getting a discount on online bookings is very easy and simple. All you have to do is to choose the activities/programs you want to partake in, select your preferred time slot, and continue to checkout. Select any add-ons you want, enter your contact information, and type "ONLINE10" in the "Apply discount code", and you're good to go. The only part left is entering your payment details, and once they are verified, your booking will be confirmed.
Reasons to Visit Aventura Parks
If you haven't yet visited Aventura Parks, it's the perfect time to do so. You can explore this outdoor adventure park set amidst the beauty of greenery at a discounted price. Let's delve deeper and know what makes Aventura Parks a must-visit place:
A Perfect Place to Spend Family Time
Aventura Parks is an ideal place to spend some family time together. We have something for every member of your family. There's a special Discovery Play Area for kids. Pre-teens and teens can take part in several fun activities included in Aventura Challenges and Aventura Park Circuits.
Those who do not want to take part in physical activities can spend some relaxing time in the "Chill Zone". It's a nature space jam-packed with numerous board games and fun activities. Once everyone has taken part in their desired activities, the entire family can head to Café Chris to indulge in a freshly-cooked hearty meal.
Special Focus on Physical Health
Most people, in this tech-driven, fast-paced world, are glued to computer screens or their tech gadgets. Kids, in particular, spend a lot of time in front of screens playing games or watching series, which certainly isn't a healthy habit. All this has resulted in a significantly reduced time to spend outdoors.
Keeping this in mind, we also offer team building programs for corporate entities so that their employees get to take a breather from their mundane routine and enjoy some time outdoors, surrounded by the beauty of nature.
Aventura Parks allows people to take a break from their tech gadgets and focus on physical health while having endless fun and entertainment. All the outdoor adventure activities set in Aventura Parks are designed to boost the physical health of participants.
Aventura Parks also organizes camps for kids throughout the year. These camps entail numerous fun activities that promote learning, appreciation of nature, and life skills, all while boosting physical health.
An Opportunity to Break Free from Your "Comfort Zone"
No matter how comforting it is, a 'comfort zone' restricts your abilities and learning. And at times, it becomes necessary to get out of the comfort zone and do things you have always wanted to do but were afraid to do.
Aventura Parks provides this opportunity to break free from your comfort zone and get rid of phobias. If you have been afraid of heights, taking a zipline at Aventura will help you get over your fears. All the activities we offer come with foolproof safety measures. Therefore, you can rest assured that you will be completely safe. Furthermore, our professionally-trained crew is also there to guide and help our valuable visitors at every step.
Indoor and Outdoor Facility
Worried about the scorching Dubai heat? Well, we have got you covered on this front as well. Our park timings have been changed to suit the emirate's climate. We are now open from 5:00 pm to midnight. In addition, there's an indoor cafe as well. So, if you do not wish to take part in outdoor activities, you can spend time in our indoor delicious cafe.
Wrapping Up
To sum it up, Aventura Parks is a must-visit place with your family and friends. And now that the discount is available, it's the best time to explore the attractions of this beautiful park.