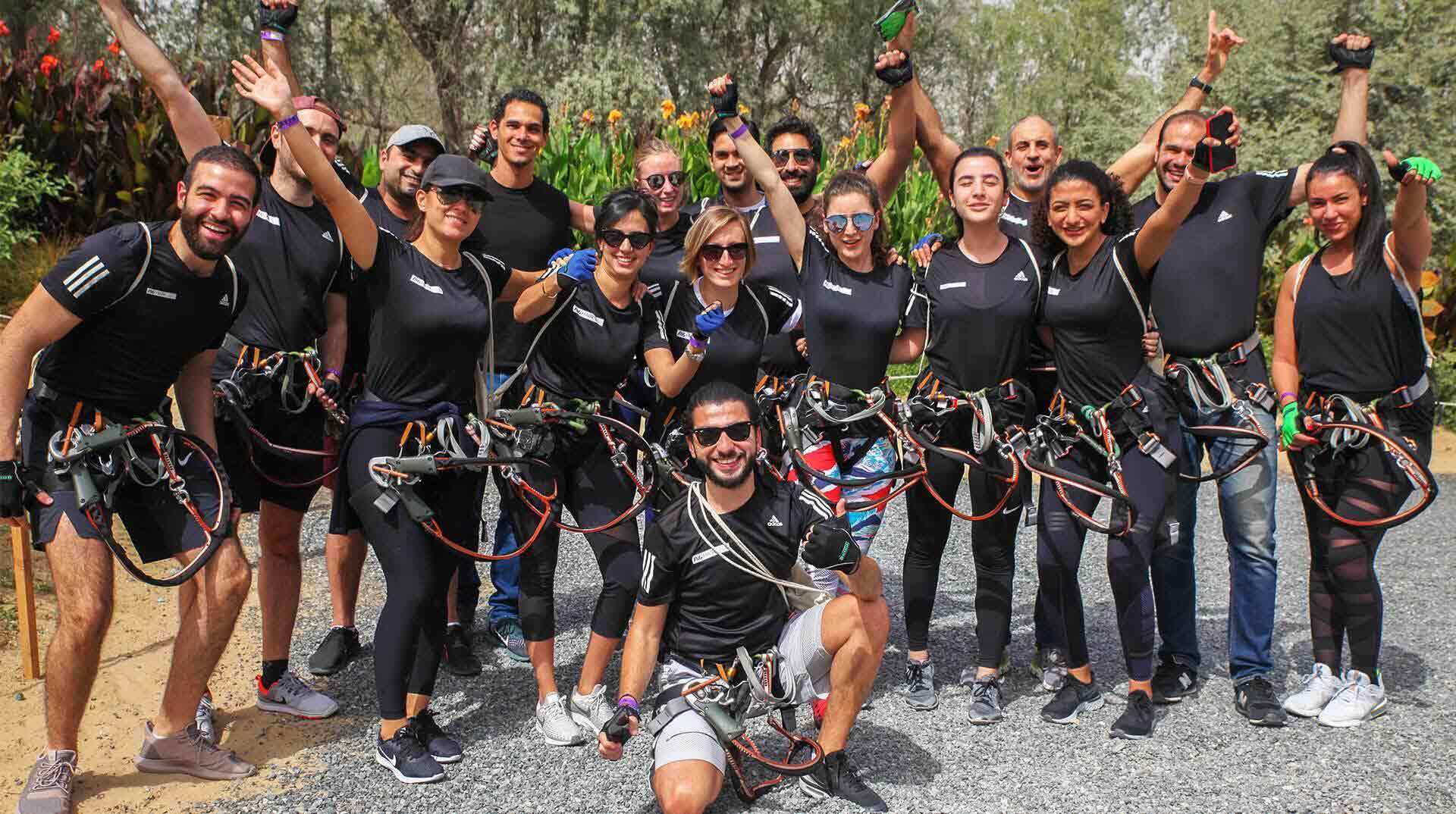 The importance of team building activities is known to one and all. Arranging such programs boosts the productivity of employees, keeps them away from work-related stressors for a bit, and brings a refreshing change to their routine.
These benefits, however, double up when companies arrange outdoor team-building activities. They bring the element of nature into play, which impacts the overall well-being of employees. And when it comes to arranging outdoor team-building activities in Dubai, there's no better place than Aventura Parks.
Set amidst the natural beauty of Ghaf forest, the largest zipline park in Dubai offers a unique way to arrange team-building activities. The park serves as an oasis of adventure, which is an ideal combination of adrenaline-rushing activities and natural beauty. The best part? There are many activities to improve team performance for employees to partake in.
Corporate Programs  & Activities to Improve Team Performance at Aventura Parks
Offering abundant benefits, Aventura's team-building programs range from organising healthy competitions and team outings to facilitated workshops. These impactful programs can also be customised according to the participating company's requirements.
Let's take a look at corporate team-building programs available at Aventura Parks:
This one promises endless fun and excitement in outdoor settings. Participants get to partake in 4 adult circuits that require them to navigate 12 to 19 obstacles. This program encourages participants to indulge in healthy competition and simply have fun outdoors with their peers.
Adventure Park Fun can accommodate a group size of up to 220 members. It lasts for three hours.
Suitable for a group of 10 to 120 participants, Aventura Word Hunt is a fast-paced team challenge that focuses on core skills, such as collaboration and communication.
Participants are divided into different teams and each team is required to locate words hidden throughout the four adult circuits with over 65 obstacles. The winning team also gets a special prize, while every participant gets Mushrif Park and Adventure Park access. This program lasts for 4 hours.
It's an exhilarating team challenge amidst the picturesque Ghaf tree forest, where winning demands seamless collaboration, effective communication, and precise coordination.
For this program, participants are divided into teams of 6-10 members and provided with clues to locate hidden items within the forest. To succeed, they must rely on their intellect and available resources to accomplish the mission within a specified time frame.
It's a 2-hour long program that is suitable for a team of 10 to 120 members.
Aventura Forest Competitions foster teamwork, effective communication, and problem-solving within teams.
Participants are organised into teams, tasked with collaborating through a series of challenging activities aimed at achieving the highest score. Clues and resources are at their disposal to aid them on their journey.
These competitions are not only great for fostering camaraderie, bonding, and breaking the ice but also for determining the winning team, who will earn the coveted titles of champions along with an exclusive Aventura Prize!
It is suitable for a group size between 20 and 400 members
Sustainability and Environment 
With Aventura's Sustainability and Environment program, participants can delve into essential concepts like the 4Rs (Reduce, Reuse, Recycle, and Recover), composting, and sustainable gardening.
This engaging program encompasses a range of hands-on activities, including crafting recycled paper, creating natural pesticides, and establishing a sustainable garden. As part of the experience, participants embark on a forest exploration, gaining insights into the diverse flora and fauna of the UAE.
This program is suitable for a group of 10 to 120 participants.
Aventura Tribes is a dynamic program that is highly customizable and designed to align with the unique objectives and requirements of our clients.
It immerses your team in a vibrant blend of competition, collaboration, and celebration. After each activity, our skilled facilitators lead comprehensive debriefing sessions, followed by interactive takeaway sessions and group discussions tailored to meet the specific needs and goals of our clients.
It is ideal for a group of 10 to 80 members.
The essence of the 'Building Trust' program is encapsulated in its very name: TRUST.
This program is designed to instil the significance of trust within a team. It accomplishes this through thoughtfully constructed scenarios that guide participants in exploring their personal capacity to trust both themselves and their fellow team members.
Activities to improve team performance, part of this program, include Trust Angle, Circle of Trust, Spider Web, and Building Shelter. It is suitable for a group size of 10-80 members.
The 'Navigating Change' program delves into the art of handling the unforeseen. It is based on the concept that circumstances can change abruptly; therefore, participants need to remain composed and apply their critical thinking abilities.
Its duration is 4 to 6 hours and can accommodate between 10 and 80 members.
When it comes to activities to team performance, 'Leaders in Action' may prove to be the right pick for you.
This program takes the team through different scenarios in which participants get to showcase their leadership skills. Ideal to provide participants with a breakthrough experience, it can be integrated into the company's L&D programs.
It is a dynamic workshop that helps participants understand the underlying culture of the team. Activities, such as Tower Bell, Trust Angle, Circle of Trust, and Mission Impossible enable participants to solve problems, strategize, negotiate, and collaborate to navigate complex challenges.
Contrary to the other programs, it is suitable for a smaller group size (4 to 20 members).
Team Dynamics harnesses the power of the Reiss Motivation Profile (RMP), a psychometric tool, to guide teams and leaders on a journey of self-discovery and mutual understanding of values, motivations, and leadership styles.
By gaining insight into themselves and connecting with their team, individuals enhance their ability to navigate conversations, actions, and behaviours effectively.
Wrapping Up
There you have it! The aforementioned corporate team-building programs, entailing various activities to improve team performance, can help organisations and their employees in many ways.
So, book your slots now and get a customizable program that aligns with your company's goals. We will be happy to host you!