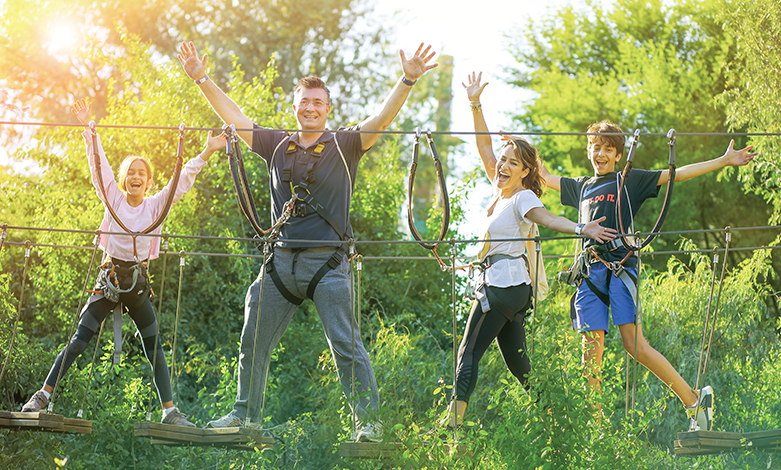 If there's one thing that technology is taking away from us, it's quality family time. Everyone is so engrossed in their phones that they hardly get time to talk to one another. While there are occasional family dinners and outings, they are mostly confined to indoor settings. It's like moving out from the dining room to a fine dining restaurant. The only difference is ambience and food. Everyone's on their phones in the restaurant, the same way they are at the dining table in their homes.
An impeccable way of bridging the gap and enjoying some quality family time is to spend time amidst nature. While spending time in nature offers many individual benefits, it has a positive impact on family bonding and relationships as well. It has been proven in various studies.
To put it simply, spending time in a natural setting helps to:
Promotes positive interactions
Uplifts mood
Provides a chance to bond and spend quality time
Enhances attention and concentration levels
Improves health and overall well-being
Having said that, it's not possible in today's fast-paced world for families to take time out for extensive vacations. There's always someone's exams, presentations, important job duties or anything else. However, it doesn't need to be an elaborate holiday to obtain these benefits of family bonding in nature. A short one-day trip or even a visit to an outdoor adventure park, such as Aventura Parks can help promote family bonding.
Family Bonding at Aventura Parks – An Opportunity Not to be Missed
Aventura Parks, the biggest zipline park in Dubai, is the perfect place for the entire family to take part in various exciting activities and bond together. It takes them away from the technology-driven lifestyle and provides them with an opportunity to spend some quality time taking part in various fun activities.
Take a look at some activities at Aventura Parks and how they benefit families:
Explorador
Explorador, part of Adventure Park activities, is a series of challenges that the entire family can take part in. Its highlights are ziplines and bridges. While the difficulty level is on the lower side, it offers great fun for families. Also, it's an effective way to introduce your little ones to treetop adventures.
As adults can join kids in this activity, it promotes bonding and trust among them, and helps them develop something which is missing in today's life – quality family time.
Thriller
Thriller is a unique circuit that includes exhilarating ziplines. The difficulty level is low but the fun quotient is extremely high. The highlight of this circuit is that it contains 9 consecutive ziplines. They are connected by two bridges, promising a time full of fun and excitement.
You can take part in this activity with your kids, or cheer for them when they spread their arms and fly in the air on the 166-metre long zipline.
Aventura
This is where things get more challenging and exciting. The difficulty level rises, but so does the excitement level. This circuit finishes off with 3 consecutive ziplines, which further elevates the fun. Parents can watch their kids ziplining through the forest, cheer for them while they take on challenging activities, and greet them with a big high-five and a pat on the back when they come back after completing this challenging circuit.
This will help develop courage in kids and they will know that their parents have got their back.
Extreme
Featuring some of the most challenging obstacles, Extreme is for the most daring ones in your family. It truly tests the limit as it includes a 25-metre Tarzan jump and surfboard through the trees. Bear in mind that this circuit is only suitable for kids over 16 years of age.
Discovery
When everyone else is having fun at Aventura Parks, why should your little ones be left behind? Discovery is a unique playground suitable for little kids. It is composed of various swinging games, slides and other fun and engaging activities. It is designed in a way that kids can have fun while developing fine motor skills and muscle strength.
Kids can either play independently in this circuit or can be accompanied by an adult, depending on their height. The park requires kids below 1.05m to play under the supervision of an adult.
Nature Trail
Aventura Parks' nature trail is a full-of-knowledge and fun guided trip that explores the native flora and fauna of the UAE. Participants of this trail get to explore more than 30 points of interest, interact with Aventura pets, and experience family bonding like never before. The entire family can take part in this trail and spend quality time together.
Once you have taken part in these immersive and engaging activities, you can head to Café Chris, an eatery located within the park, and enjoy a hearty meal together as a family. After all, a family that eats together, stays together!