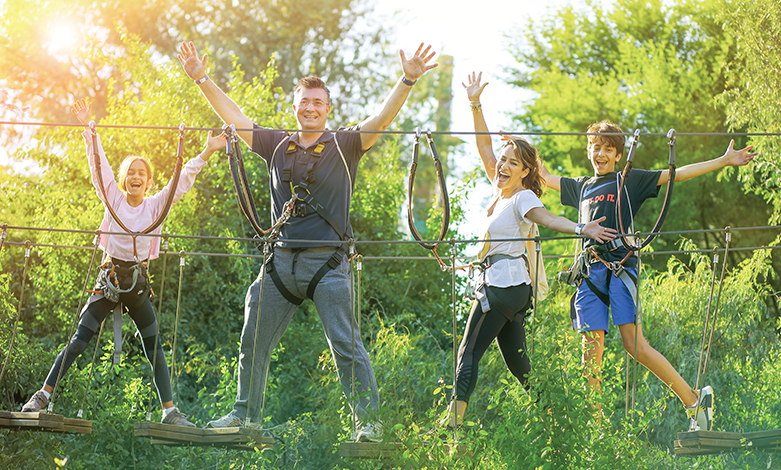 Suitable for people of all ages, activities in Aventura Parks focuses on promoting physical health, mental fitness, and overall wellness.
Dubai (February 18, 2022)
Aventura Parks feels delighted to announce that it was mentioned as the largest adventure park in Dubai by Dubai Tourism. On Visit Dubai's official Facebook page, a video of kids enjoying various activities at Aventura Parks was posted along with the caption citing kids as future superheroes. Dubai Tourism is a government department that aims to make Dubai the most dynamic city in the world for tourism investment and business. For this purpose, it has launched and supported various tourism initiative programs.
Aventura Parks provides these superheroes of tomorrow an atmosphere where they can nurture amidst nature and enhance their physical and mental strength through a series of engaging, interactive, and fun activities.
There are also summer and winter camps organized for kids to learn, grow, and improve their skills with a backdrop of nature. The aim is to combine the core elements of nature and learning while allowing children to take part in various collaborative activities, which helps in improving communication and coordination skills along with boosting confidence. Recognized programs, such as "Science Made Fun" are also incorporated at Aventura's Camps so that kids can enhance their learning in a natural setting.
Aventura Parks also offer specialized birthday celebration deals for kids and adults alike. These deals include a host of fun and engaging activities and delicious meals.
This recognition by Dubai Tourism cements Aventura Parks' position as the largest outdoor adventure park in Dubai, where the focus is on learning and growth in the backdrop of nature. This part is not only suitable for kids, but people of all ages can enjoy spending time in this beautiful park tucked away in Mushrif Forest.
About Aventura Parks
Spread over an area of 35,000 square meters of Ghaf tree forest, Aventura Parks is an outdoor adventure park that invites families, friends, and students to breathe in some fresh air amidst nature and partake in various activities designed for everyone. There is also a Chill Area and Café Chris where visitors can spend some relaxing time. The park also facilitates team building sessions through its immersive activities, specifically designed for corporate teams to bond and take part in healthy competitions, focusing on their collaborative skills.
Media Contact:
Aventura Parks
+971 52 178 7616
info@aventuraparks.com