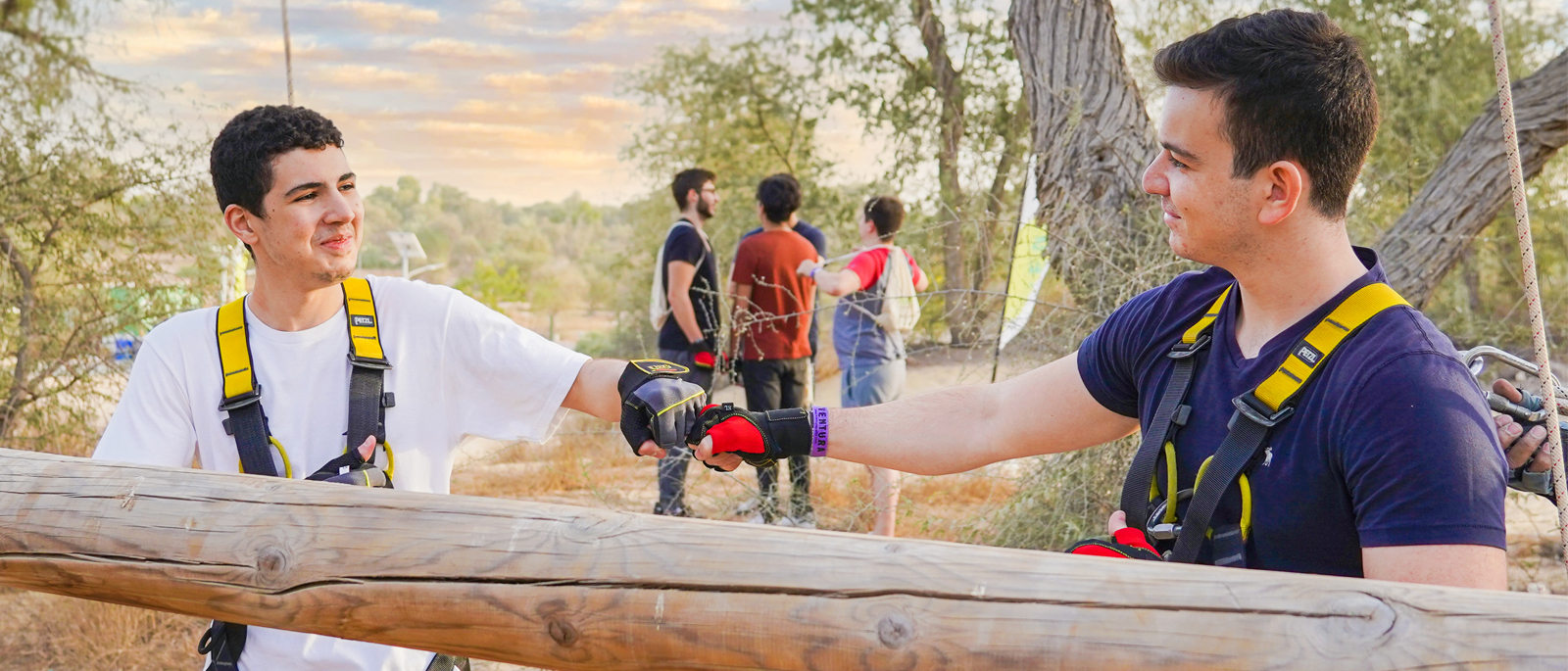 Going to movies, having BBQ nights, playing indoor games – we have all exhausted these activities when we meet with friends. Although any place automatically becomes the best place if you're in the company of your friends, monotony can kick in when you indulge in the same set of activities every time, making you and your squad longing for something exciting to do.
So, it's time you break the monotony and head over to Aventura Parks for an exhilarating experience. Being the largest zipline park in Dubai, it has everything that a group of friends need to have a day full of fun and excitement. Wondering what a fun day at Aventura Parks with your square looks like? Read ahead to know more:
Take Part in Various Outdoor Activities
Climbing a pole and jumping from it, walking on a series of wooden planks at a particular height while maintaining your balance, doing a 'cat walk' on a narrow platform without losing your balance; sounds fascinating, doesn't it? These are just a few of the fun outdoor activities available at Aventura Parks. The park has a lot in store for adventure seekers. 
The best part of taking part in these activities is that they promote physical fitness and mental well-being while allowing participants to spend a fun day at Aventura Parks. When you take part in these activities, you not only push your limits but encourage your friends to do the same as well. This way, the entire squad gets to work on their fitness while having fun at the same time.
All these activities are performed under expert supervision, and participants are made to wear the necessary safety gear. Therefore, you can rest assured that the fun day at Aventura Parks will be safe for you and your squad.
Challenge Your Friends with Aventura Challenges
Aventura Challenges include several activities and challenges that you and your friends can take part in. For an even better experience, you can divide your squad into two groups and compete against each other.
Our 4 challenges; Leap of Faith, Cat Walk, Himalaya, and Jacob's ladder, are a guarantee to get your adrenaline pumping. The team that finishes 'cat walk'  the fastest, climbs the 'Himalaya' in record time, or climbs strategically on Jacob's Ladder will be crowned as the champion of Aventura Challenges.
These challenges offer the perfect opportunity to start a healthy and fun competition among your friends while having a fun day at Aventura Parks.
Enjoy Thrilling Zipline Experience
Ziplining through Aventura Parks is one of the most beautiful sights of the Ghaf tree forest in Dubai. This park has not 1 but 24 ziplines, offering a truly adrenaline-rushing experience to participants.
The Adventure Park section of the facility contains 6 different circuits catering to all ages. For example, Explorador, a circuit designed to be kid-friendly, contains low-height ziplines. On the other hand, our Thriller, a circuit for adults, has 9 consecutive zippiness that will get you soaring through the beautiful forest.
Lastly, Aventura, a circuit with high-level difficulty, has three ziplines.
Bond with Nature
Keeping all the fun and thrill aside, Aventura provides an opportunity to bond with nature. This is something not many of us get to do in our routine lives. Kids are mostly indulged in their gadgets while elders are busy maintaining a balance between personal and professional life.
When you visit Aventura Parks, you get to appreciate nature and its beauty. There's a special nature trail suitable for kids and adults that you can take part in with your friends and explore flora and fauna of the UAE. This is an added bonus when you visit a fun day at Aventura Parks.
Have a Hearty Meal at Café Chris
After you have exhausted yourself by taking part in various activities at Aventura Parks, you can bond over a hearty meal with your friends at Café Chris. It is a lovely café nestled within the park. Here, you will find a range of food items and juices that will keep you energized to go back out there and indulge in thrilling activities and challenges.
Celebrate Your Birthday at Aventura
Tired of run-of-the-mill birthday celebrations at home? Celebrate your special day in a unique way this year by taking your squad to Aventura Parks. You, along with friends, can take part in various outdoor fun activities, including zip-lines, bridges, tree-surfing, wall climbing, tight ropes and more. We promise to make your special day extra special.
We have special birthday party packages suitable for people of all ages. Each package includes fun games, table décor, and a meal for guests. The duration and activities included vary from package to package.
Birthday packages at Aventura start from AED 165 per person. Our packages start from AED 165 per person. Guests can choose from a variety of meal options, including Margherita pizza, pasta, chicken nuggets, beef hot dog & french fries.
Get Ready for a Fun Day at Aventura Parks with your Squad!
In all, Aventura Parks has a lot in store for you and your friends to enjoy. It's an ideal spot to visit with your friends and make memories together that you'll cherish forever. So, book your tickets now and get ready to spend a fun day at Aventura Parks.