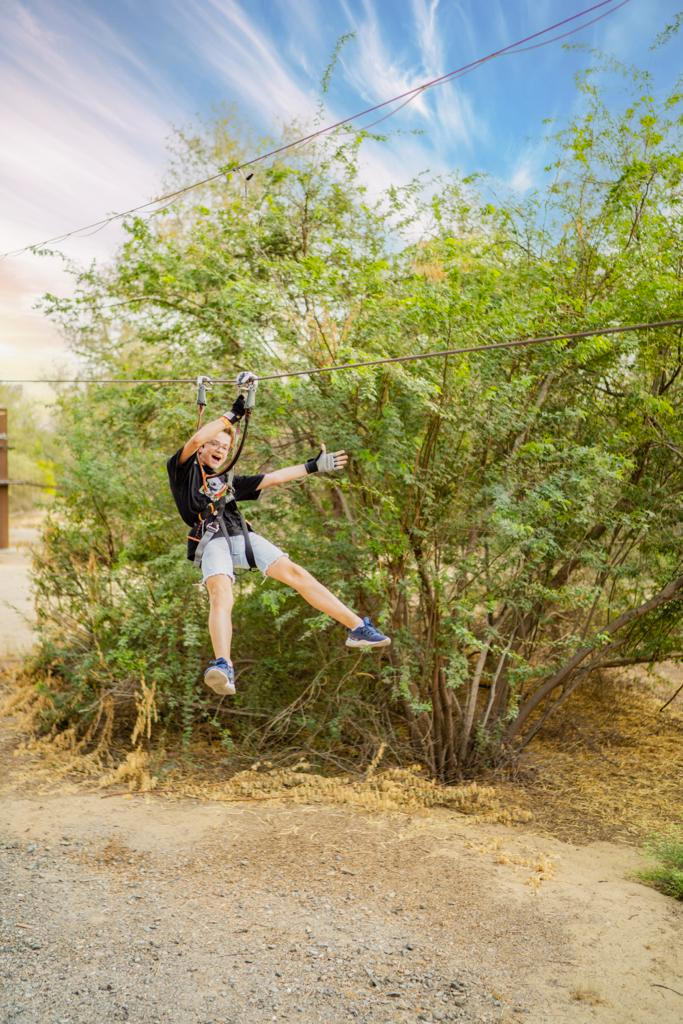 Winter has finally set in, and we couldn't be more grateful. After tackling months of the stubborn heatwave in Dubai, you can sip on your favourite hot chocolate in peace. But, have you got something to keep your kids entertained through the vacations? If not, we've got plenty of options to opt for now that the weather is pleasantly breezy.
When it comes to the outdoors, Dubai is no short of adventures and thrills with winter camps at Aventura Parks. Available for children between the ages of 5 and 12 years, the new session of camps at Aventura Parks is already underway. It will remain open for kids until the 30th of December. So, you still have sufficient time to let your kids learn new life skills amid nature.
Here's an insight into all the exciting details about the winter camp happening at Aventura Parks. 
Test your Kid's Academic and Physical Strengths at Aventura's Winter Camps 
While being the largest Zipline Park in Dubai is an honour that Aventura Parks beautifully beholds, the location is equally definitive.
Settled among the wild Ghaf Tree forest, the area of Aventura Parks spans over 35,000 sq. metres, implying there's ample space for children to witness, absorb and explore the natural beauty. Kids can amusingly partake in biological activities from arts and crafts to scientific detailing, team-building activities and Zipline adventures. 
Let's see what the winter camps at Aventura hold for you and what good it brings to your table.
Tents Setup to Boost Self-Independency
As the name suggests, a significant part of winter camps is to set up tents and wander around nature. Even if they don't know how to pitch a shelter, there's a camping experience perfect for kids at Aventura.
Not only does it boost their self-esteem, but it also teaches them to take accountability for their actions. Indeed, it's a great initiative to boost self-assurance, especially for the ones who've always counted on their guardians.
Apart from sheltering, team-building acts like knot-tying and puzzle-solving are also a part of the deal. 
Learn to Socialise with Arts and Crafts 
The invention of digitalization has confined millions of kids within their four walls. That's where winter camps at Aventura Parks come to play. Partaking in arts and crafts like sketching, sculpturing, and suncatcher crafts provides children with a sense of accomplishment and coordination with others, preferably their teammates. 
Unlike academic sessions, where kids are dictated to mold their behaviour in a certain way, Aventura Parks grants the liberty to socialise with other candidates just the way you are.
Meet and Greet with the Wildlife  
Many parents need to realize the significance of familiarizing their kids with the super-friendly wildlife in nature. Since winter camps at Aventura Parks are settled among the Ghaf Tree forest, you'll meet a range of wildlife along the way. In fact, a huge part of the program is dedicated to wildlife. In which children get to interact and befriend them.
As most kids fear animals due to the lack of association, It's a great way to familiarise themselves with the harmless bunnies. On the other hand, those who love spending time with pets will love this activity. 
Improves Brainstorming with Academic Fun 
Next, we have good news for all the science buffs visiting winter camps at Aventura Parks. By making a delightful blend of technology, mathematics and science, we have curated educationally-rich activities for children. 
The idea of learning interactively outside the classroom is quite pleasant, including all the academic aspects of the games. Moreover, it enhances the ability of critical thinking in young candidates. The art of brainstorming to find solutions to challenges makes them smarter and cleverer. 
Create Lasting Memories with Zipline Adventure 
Do you want to become the bravest among your peers? There's nothing better than getting on the largest Zipline adventure park in Dubai at Aventura Parks. The enormous park nurses over 24 Zipline around 5 circuits, granting epic views of the wild Ghaf Forest. After all, what's more heroic than flying high in the sky, appreciating the natural beauty dwelling beneath?
Besides the cold breeze touching your body on the way, it also helps to smoothen your soul. Indeed, it's a once-in-a-lifetime opportunity that every kid must experience. As for protection, you can rest assured as there are specialized instructors to ensure your child's safety. 
Winter Fun made Easier at Aventura Parks! 
Winter Camps at Aventura Parks arrive with daily and weekly packages. While the daily session will cost you around AED 265, the weekly round ranges from AED 1075. Since lunch is excluded from both deals, you can get it for the kids by paying an additional AED 75 per person (including two snacks and one main course). 
What's best, there's a discount available as well. If your kid was enrolled in any previous sessions of Aventura's camps or you're getting more than one kid enrolled, you are entitled to receive a 10% discount.
Pack up your Bags! 
Winter holidays are approaching, and you must find a way to stop your kids from getting under the blankets. Winter camps at Aventura Parks have come to your rescue. The huge indoor and outdoor space will nourish your kids mentally and physically.
Do you know what sets it apart? The provision of a completion certificate to boost children's self-confidence upon successful execution of the camp. If you don't have a viable reason to wait any longer, enrol your kids in the winter camp now before you lose the slot!