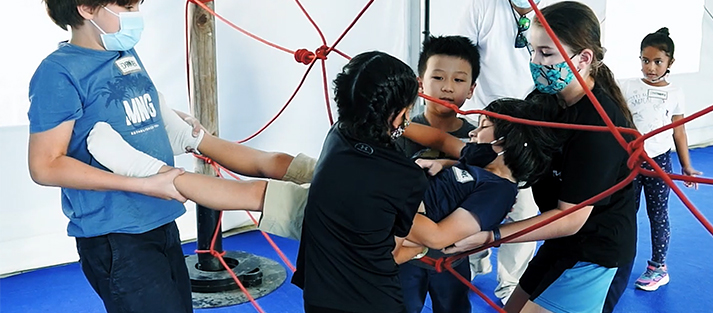 After spending most of the previous year indoors, it's going to be a real challenge for parents to keep their kids confined to their homes during the summer break from schools. But, keeping kids indoors all day long is also not healthy either. Their eyes will be glued to the television screens or their gadgets, which poses certain health risks.
The ideal solution is to keep your kids engaged in healthy activities that promote physical and mental fitness. And there can be no better option than getting them registered in Aventura Parks' 5 Day summer camp.
Here's a list of compelling reasons why you need to enroll your kids n our specialized summer camps for kids in Dubai:
Make True Friends  
New friendships are formed at Aventura Parks' summer camp for kids. They laugh, sing, talk, and perform various activities together that help them to get closer. The fact that they are free from the pressure that hovers over them at school makes them feel more relaxed and they can make friends easily.
During this camp, kids are divided into different teams, they have to accomplish different tasks with the help of their team members. It helps in developing a sense of co-existence, coordination, empathy, and living in harmony. While working together to achieve a common goal, they make new friends and create lasting memories with them.
Develop Social Skills & Confidence
With kids engrossed in their tech gadgets for the most part of the day, developing social skills among them has become quite a challenge for parents. With our specialized summer camp, kids learn to become more social as they get to perform different activities. Completing these activities gives them a sense of self-assurance and accomplishment.
Furthermore, they are given an opportunity to exhibit their skills in front of an audience. This helps in boosting their confidence.
Learn Survival Skills
Our summer camp includes certain survival skills that can make kids more self-dependent. They get to learn how to build shelters and converse water. Such skills are hardly taught in schools and at home. So, not only kids enjoy these unique activities but also learn so much from them. Additionally, these newly learnt skills can help to shape their personality as well.
Have Fun with Animals
An amazing feature of our summer camp for kids is that they get to spend time with animals and interact with them. There are numerous animal-related educational activities and games that are part of our program.
Learn Science and Other Subjects in a Fun Way
If your kid dreads learning science subjects, getting them enrolled for the summer camp program is surely going to help them learn science in a rather fun and exciting way. We have partnered with Science Made Fun. This allows us to give the participants hands-on experience of performing different science experiments.
Apart from science, we can help kids with improved learning in other subjects as well, using our STEAM (Science, Technology, Engineering, Arts and Math) program.
Showcase Your Talent
Kids with special skills and talents get a chance to showcase what they are good at during our summer camp. For their encouragement, our camping programs include performing arts. There is also an open mic event organized for this purpose.
Learning amidst Nature
Aventura summer camps offer an incredible opportunity for kids to learn new things and perform a host of activities in the midst of nature. Kids can learn about various flora fauna while cherishing the beauty of their surroundings. This will make them appreciate the beauty of mother nature.
Enjoy Ziplining
We have reserved the best one for the last. It is indeed the favorite activity of kids. The experience of rushing through the air (while being harnessed, of course) will give them a liberating experience that they'll cherish forever.
You can rest assured that your kids will be absolutely safe when ziplining as we follow advanced safety protocols for all the activities we offer at Aventura Parks.
Aventura's summer camp indeed presents the best opportunity for kids to learn, grow and become more confident. Suitable for kids aged between 5 and 14, different sessions of camps are organized throughout the year. Apart from taking part in different activities, they get free access to Mushrif Park and Adventure Park, unlimited water, and two snacks and lunch.
While we primarily focus on outdoor activities to boost the physical strength of kids, there's also an indoor, air-conditioned facility where they can perform different tasks and play. Upon successful completion of the camp, each kid gets a certificate of participation that serves as a memoir of this wonderful experience.