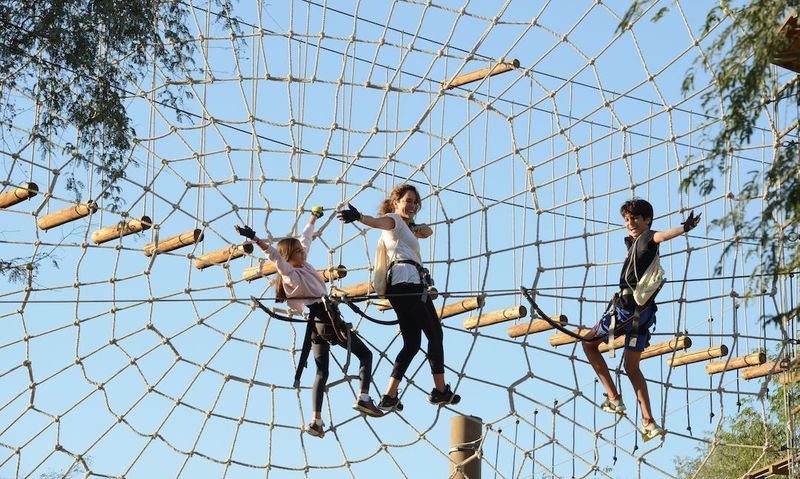 If you're in Dubai and seeking an adrenaline-packed experience, you can never run out of options. The city is full of thrilling activities that cater to adventurers of all levels. Although it's known for its towering high-rises and opulent lifestyle, Dubai is also home to numerous open-air outdoor adventure parks with endless thrill and excitement. 
With technology dominating our lives, stepping out of our comfort zones and embracing the great outdoors is pivotal. Not only does visiting an adventure park refresh our nostrils with unfiltered oxygen, but it also connects us to nature. 
Aventura Parks is a prime example of an open-air adventure park offering breathtaking fauna and flora and a range of outdoor activities. However, there are a few specific factors that you need to watch out for, keep reading to find out.
Things Every Open-air Adventure Park Needs (Including Aventura Parks)
Do you want to have an exceptional experience at an open-air adventure park? Here's a rundown of everything you must have in mind. 
Unforgettable Zipline Experience 
Zipline is a must-have for any adventure park, housing a gorgeous fleet of trees and breathtaking scenery. In such an ambiance, the experience of flying through the air is truly exhilarating. 
For this, Aventura Parks, the largest zipline Park in Dubai, is home to over 20 ziplines providing a range of difficulty levels. The aim is to ensure anyone can enjoy this life-changing activity, from beginners to seasoned participants. 
Range Of Thrilling Outdoor Challenges
The growing years of your kids are a great time to encourage them to take on challenges. It helps to improve their physical and mental strength while also enhancing their creativity and critical thinking skills. 
Our dedicated program, Aventura Challenges, offers exciting games that test your mental and physical strength. By completing thrilling adventures like Leap of Faith, Catwalk, Himalaya, and Jacob's Ladder, you'll feel self-assured and more confident by the end of the day.
Out of the 365 days of the year, there's always that one unforgettable day – and for many of us, it's our birthday.
These days, adventure parks in Dubai are stepping up to the plate, offering personalized birthday celebrations tailored to your interests and budget. 
In this regard, Aventura promises to make your outdoor birthday celebrations amidst nature unforgettable with the help of expert coordinators. From an appealing birthday tent and some truly delightful treats, there's something for every age. 
You may check out our birthday packages and find the one that suits your preferences and budget best!
While adventure parks are designed to provide a thrilling encounter, a space where visitors can take a break and recharge their batteries is crucial. That's where The Ghafé restaurant and its Chill Zone at Aventura Park come in handy. 
It's the perfect place to hang out with friends, enjoy some delicious snacks, or even take a nap. It allows you to unwind and take a break from all the excitement. 
In addition to the Chill Zone, Aventura Park's Discovery PLAY AREA  is curated delightfully for toddlers and kids. With plenty of fun-filled activities to keep them entertained, you can take a short nap while they have a great time.
It's common to crave a refreshing drink and a fulfilling meal after an adrenalized trip at an open-air adventure park. So, you must watch out for a relaxing and exclusive restaurant to stay hydrated and refill your tummies. 
If you're visiting Aventura Park shortly, you're in luck as The Ghafé restaurant offers a variety of cuisines, including Mediterranean flavour, American food, and Levant cuisine. The aim is to cherish the cultural diversity of the UAE by serving something for every taste. 
A Professional Staff To Back You 
If there's one thing you shouldn't ever compromise when visiting an open-air adventure park, it's your safety. Although you're in charge when climbing trees or roving high through the ropes, it's always comforting to have a professional eye to ensure everything goes smoothly. 
At Aventura Parks, you can rest assured that we have assigned the most skilled and experienced crew members to watch over you. Whether you choose to climb, zipline, or any other activity, we ensure to harness you securely as you proceed. 
Wrap Up!
Are you ready to embrace the Emirati adventure bandwagon of an open-air adventure park with your loved ones? Look no further and secure your slot at the awe-inspiring Aventura Parks. Let us nourish you both mentally and physically as you embrace our incredible outdoor ambiance.