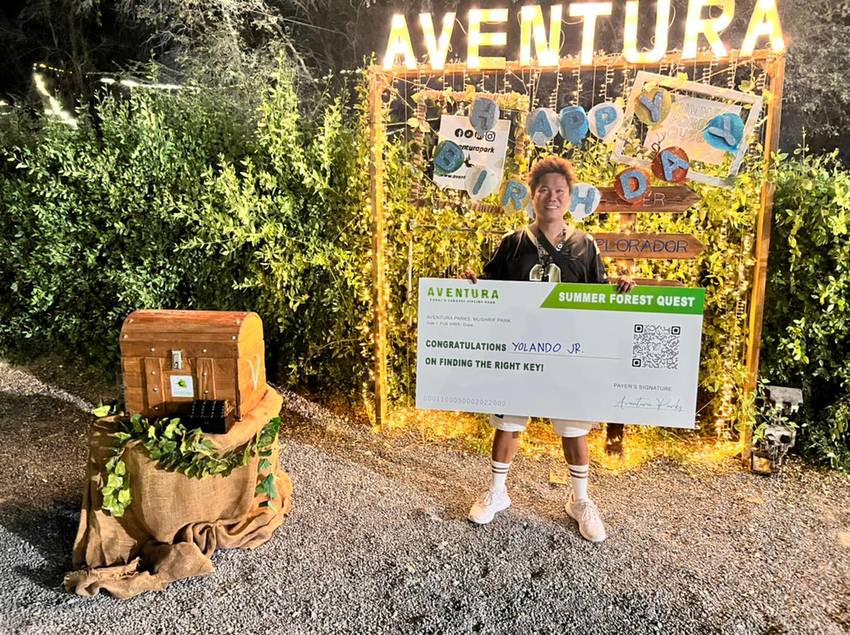 If you live in Dubai, you must have heard of the very famous Summer Forest Quest hosted by Aventura Parks a while ago. Chances are, you had gone in to compete and find the hidden treasure chest to test your luck.
Set amidst the enthralling and ever-so-captivating Ghaf tree forest, adventure seekers get the opportunity to inhale the natural elements that energizes and replenishes their soul. The natural hues of green, brown, and black with a wildlife ecosystem allow them to explore the species and life that dwells here.
Exploring a wide range of activities, challenges, and obstacles to overcome before reaching the treasure chest in Aventura parks, is a sure way to put your brimming energies to the best use. Encapsulating all age groups, adventurers get a mic of thrill, excitement, and competition while learning impeccable skills as they near the finish line.
Are You the Winner of the Summer Forest Quest Held Last Weekend?
Aventura's Summer Forest Quest featured a hunt for the mysterious key, taking the competing individual for an adventurous hunt through the woodlands of Mushrif Park. And guess what? We have the name of our winner, who successfully opened the treasure chest.
You should have been there to see the winning moments of Jamer Restoso bagging a hefty cash prize of AED 1500 and a 1-night stay at the Millennium Place Mirdif for a luxury experience.
Fun Continues….
With the winner announcement made, you might be thinking that it's over. But that's not the case. This adventure summer forest quest in Aventura parks is still open for you to come and try your luck. Skipping the intense summer heat, this adventure park opens its doors from 5 pm and continues till midnight. Thereby allowing you to enjoy it without getting drenched from the extreme temperatures.
Moreover, in order to keep the fun and excitement alive, the quest continues until all the cash and prizes have been collected. And there is still a lot left!
Unpacking the Bundle of Joy at Aventura Parks
Summer Forest Quest is surely a bundle of joy for adventurous souls, waiting to be explored. So dive in and see what you are waiting for!
Physical and Mental Benefits
A walk on the nature trail while breathing the fresh air, seeing green, blue, and brown hues of color and texture, an amalgamation of raw and rugged elements to truly set the mind and body free.
After a long and tiring day, a quick walk in Aventura Parks can eliminate all feelings of exhaustion and magically rejuvenate yourself. Thereby, allowing you to start the new day with full zeal and zest.
Dreamy Camping Experience
Gazing at the dreamy, starry nights, peaking through the green canopies of the Ghaf Tree forest will relax your mind. With the cool breeze blowing, spending some time in this natural ecosystem will provide a safe yet real experience.
Feed Your Adrenaline Rush
An adventurous soul at heart, you might be looking forward to all the thrilling, exciting, and even nerve-wracking challenges it all offers by the Aventura parks. Every single one of them tests stamina, physical skills, team building, leadership, and other skills impeccable for winning the obstacles.
With ziplines, rock climbing, Leap of Faith, Himalaya, Jacob's Ladder, Cat Walk, one is sure able to satisfy their adrenaline rush.
Do Not Miss The Quest
With the most recent winner announced, the summer forest quest still continues. Aventura Parks, nestled in Dubai, continues to attract visitors and expatriates for all the wondrous reasons. So, if you are also brimming with a dose of thrill, excitement, and winning prizes, Summer Forest Quest is the one for you.
So hurry up, overcome the obstacles, find the mysterious key, and take home the valuable
prizes. Your treasure Chest awaits for you to 'Open Sesame'  it and collects the winning jewels!