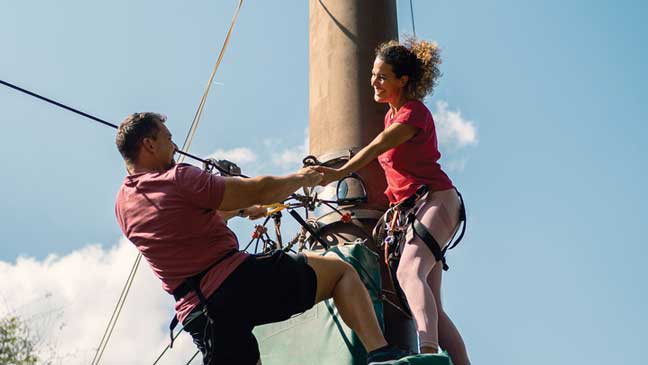 Having a candlelight dinner or going for a long drive – these are the run-of-the-mill ideas that almost every couple does on valentine's day. But, if you and your significant other enjoy thrills and the outdoors, you can make this day quite a memorable one.
After all, it's a special day for both of you, whether it's your 1st valentine's day together or your 10th. So, you should ditch the typical ideas and take a different, more adventurous route this year. And for this, Aventura Parks has got you covered.
The largest zipline park in Dubai has an exciting line-up of activities planned for this valentine's day. We have a special valentine's day package for couples, including an array of surprises.
Let's delve deeper and find out more about The Valentine's Day Package by Aventura Parks.
What's Included in the Valentine's Day Package by Aventura Parks?
Want to spend the V-day away from the hub of the city? Aventura has the perfect package for you. It is a complete package that includes everything – from taking part in adventure activities to a lavish dinner.
This package is suitable for couples who want to celebrate Valentine's Day the wild way this year while spending some quality time with each other surrounded by the beauty of nature.
Outdoor Adventure Activities
You can start the adventure by taking part in a zipline adventure. Besides that, you will have many other exciting Aventura challenges to conquer together. Performing these activities together will improve your coordination, boost physical fitness, and connect on a different level.
A Romantic Candlelight Dinner
What's a valentine's day without a candlelight dinner, right?
You won't have to worry about making reservations at a restaurant for a special dinner, as Aventura has got you covered in this regard as well. After you have taken part in adventure activities, you can surprise your partner with a romantic dinner set amidst the Ghaf forest.
The food will be prepared by our experienced chefs at our in-house restaurant, The Ghafé. The table will be adorned with beautiful roses, setting the perfect mood for you.
A Surprise Gift for Couples
We won't let you leave empty-handed after you have celebrated this special day at our facility. The valentine's day package by Aventura also includes a special gift for both of you. It's a small token of love and appreciation for our guests who choose us to celebrate their special moments.
Valentine's Day Package Price and Duration
The Valentine's Day package by Aventura Parks, including all the activities, dinner, and surprise gift, costs AED 500 per couple. This package is available from 11th to 14th February 2023.
Wrapping Up
Love is in the air, and Aventura Parks offers a perfect package to celebrate this special occasion. So, don't wait any further and get this package now!
These and many more activities are available at Aventura Parks for couples, children, and families to enjoy. Furthermore, you can also host events in this park and make your special days even more special. Visiting this park will give you a break from city life and help to improve your physical fitness in a fun and exciting manner.