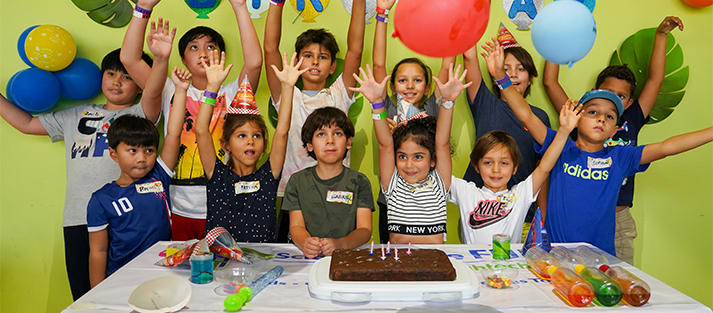 If there's one thing that kids keenly anticipate throughout the year, it's their birthday. It's the day when they get to enjoy all the attention. Needless to say, the excitement of cutting the cake among their friends while everyone's clapping for them knows no bounds. And not to forget, the happiest time for them is when they receive gifts.
Studies show that celebrating your kid's birthday can benefit them in their growth and development as well. This further enhances the importance of celebrating the special day.
Just like kids, parents are also super excited when the birthday of their little one is around the corner. After all, it's the celebration of one of the happiest days of their lives – the day that completed them. They think of a thousand ideas and themes to make this special day even more special for the entire family, particularly the birthday boy/girl. However, if you are looking to make this celebration most memorable for the whole family, there can't be a better choice than Aventura Parks.
A Memorable Birthday Party at Aventura Parks
Ditch the run-of-the-mill birthday celebration ideas and make it different this year by celebrating it at Aventura Parks – the biggest outdoor adventure park in Dubai.
Here are some salient features of Aventura's birthday party celebrations:
Different Packages
Aventura Parks has three different birthday party packages to choose from. Each package varies from activities included, meal options, and the cost per person. Time duration of the event also varies from package to package.
The first package is 'Adventure Fun'. It offers an experience, full of fun and excitement. A beautiful table, decorated with balloons, is set up for the birthday celebration. Your kids and their friends can have access to the park and an unlimited water supply. The meal option for the Adventure Fun package includes a 7″ pizza and juice for each participant.
"Adventure Word Hunt" birthday party package can make your kid's birthday more adventurous. Apart from the features included in the "Adventure Fun", it includes a team-building experience (word hunt). Winners of the competition get gifts from Aventura. Also, there are party bags.
'Escape the Ordinary' package truly lives up to its name. It's designed to make your kid's special day extraordinary. It promises unlimited fun and excitement. The best part? The team building program is customized as per your requirements. This means your kid's favorite activities can be included in this program. Also, instead of the regular menu, the meal option in this package includes BBQ. The rest of the features are the same as the other two packages.
A Host of Fun-Filled Activities & Games
Kids' birthdays are all about fun, right? And that's exactly what Aventura promises to offer. There are several activities kids can take part in and make their birthday party an occasion they will never forget. From ziplining to rope climbing, tree surfing to Aventura challenges, the options are numerous.
Not a Single Dull Moment
There's never a dull moment if you are celebrating your kids' birthday party at Aventura Parks. The park has a lot for everyone to explore and enjoy. So, if you are an adventure-lover, you are in for a real surprise. You will find activity and challenges having different difficulty levels. Activities with higher difficulty levels are harnessed and supervised.
Also, kids can participate in different activities that include tough physical challenges, depending on their height.
Different Birthday Meal Options
Want to make your kid's birthday more happening? Choose from our variety of meal options, including a beef hot dog, chicken tenders, Margherita pizza, and vegetable samosas. Most of these food items are accompanied by children's favorite – French fries.
All these menu items are prepared in Café Chris – an eatery nestled within the Aventura Park. It's a lovely place where food is served with love.
Science Birthdays
Due to the popular demand, Aventura Parks now offers Science Birthdays for the ones with bright minds and have a strong liking for science. It is offered in collaboration with Science Made Fun.
Easy on the Budget
Celebrating a birthday party can prove to be a costly endeavor. Also, managing each and every aspect of the event is no less than a hassle. The table has to be decorated, balloons and other items have to be arranged. Then there's the selection of theme, venue décor, arrangement of chairs, and a lot of other things to do.
Suffice it to say, it's not easy to arrange everything, even if you have help. Furthermore, you can easily go over budget. To save yourself from all this hassle, celebrate your little one's birthday at Aventura Parks. We have affordable birthday party packages with price ranges from AED 185 per person to AED 365 per person. And the best part? You don't have to do anything but watch your kids having the best time of their life. All the arrangements will be made by our team of experts.
In all, a birthday celebration at Aventura Parks is surely going to be a memorable event. Our offers are not only suitable for kids, but people of all ages can celebrate their birthdays here. Reach out to us for more details on our birthday packages and celebrations.