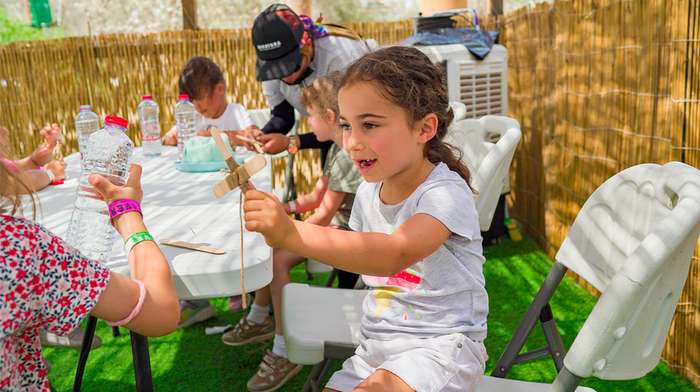 Summers camp may get humid, extremely hot, and leave you sweating in Dubai, still, it doesn't stop people from visiting the emirate from all parts of the world. 
Dubai has all the elements it takes to be a perfect vacation destination, even during the  summer. But there is more to it! It also serves to be a learning spot for you and your young ones, thanks to the presence of Aventura Parks. 
Our summer camp in Dubai consists of specially crafted programs to instill valuable life skills in your children, so they grow to become valuable citizens and employees alike!
Aventura Parks – Nurturing Young Souls Amidst Nature
Aventura Parks, being the largest zip line adventure park in Dubai, has deep roots in nature that bring the young adventure-seekers close to the woodlands of Ghaf Tree Forest. 
It revitalizes and amplifies their ability to learn and play outdoors while exploring, discovering, and utilizing their power of imagination as their contact with nature strengthens.
Skip the Summer Heat, Enjoy the Evening Breeze
As stated above, the summer heat in Dubai is undoubtedly hot. However, with the specially-crafted summer camp at Aventura Parks, the brimming energies of your young ones will be best utilized. Every single component of this camp is infused with a certain skill set and rejuvenation of cognitive abilities.
Designed for children aged 5 to 12 years old, the Aventura summer camp program is all set to last from 4 July to 26 August, with every component infused with elements of learning and entertainment. More so, the timings have been altered to be more flexible and accommodative to a busy parent's schedule. The summer camp is now available in three-time slots.
The morning session lasts from 9am – 1pm, and the afternoon session is from 1pm – 6pm. However, the adventurers can also make use of the full-day slot that starts at 9 am and ends at 6 pm, allowing them to get consumed by the adventures and fun that Aventura summer camp withholds!
What Summer Camp Holds for Kids?
Aventura's Summer Camp comprises of 5 modules; Steam, Nature, Arts & Crafts, Team Building and Adventure Park. It incorporates all the ingredients to give children the best time of the year. From making friends, exploring new interests, investing in social skills, and exploring the woodlands, the camp ensures that your child learns and plays simultaneously.
Moreover, the summer camp activities are divided into two parts; indoor and outdoor games. The indoor games host a nature tent, and all the prerequisites for conducting science, nature, and team-building exercises. On the contrary, the outdoor games include a nature trail, zip-lining, animal care, and even a mesmerizing view to catch the sunset. The timings for the outdoor activities last from 4 pm to 6 pm to ensure that young adventures have more fun and less exposure to the burning summer heat. Isn't that simply cool?
Benefits of Aventura's Summer Camp
Every activity and challenge at Aventura summer camp stimulates children's natural curiosity, imagination, and connectedness with nature. In addition, the positive experiences in a naturalized environment have energizing impacts on wellbeing, better psychological health, cognitive functioning, stronger immunity, and recovery.
To elaborate further, we have discussed some of the benefits of getting your kids enrolled in Aventura's summer camp. Read on to know more:
Interact, Socialize and Make Friends
All the games, activities and challenges at Aventura Parks' summer camp are specially crafted and set in a natural habitat. Along with that, children engage, network and make new friends by participating in various summer camp activities. It is the ideal place for young ones to practice developing their social skills.
Establishing Synchronized Movements
As the campers come together and interact, they learn to take hurdles and overcome challenges. Research establishes that nature-inspired equipment speeds up the pace of learning and developmental skills.
Unveiling the Hidden Potential
Aventura's summer camps include certain activities that unleash the hidden talents and potentials of kids. Furthermore, healthy competitions are held that produce increased productivity and team spirit levels. Teams will face unforeseen scenarios while out in nature. They'll be pushed to their limits and forced to demonstrate their best characteristics. As a result, new and original ideas will arise in order to outwit the competition.
Summer Fun at Unbeatable Prices
Aventura Parks offers daily and weekly packages for its summer camp. These packages are further divided into different slots. Check them out here!

Daily Package
Morning (9am – 1pm) – AED 180

Afternoon (1pm  –  6pm) – AED 225

Full Day (9am – 6pm) – AED 295
Weekly Package
Morning (9am-1pm) – AED 825

Afternoon (1pm-6pm) – AED 995

Full Day (9am-6pm) – AED 1345
You can also get an early bird discount of 10% if you book before 24th of June.
It's Time to Rejoice!
With the summer holidays just around the corner, school gates will close shortly and children will be forced to stay indoors while it becomes difficult for the parents to manage their routines. However, summer camp at Aventura Parks is your way out. The enormous indoor and outdoor spaces are a treat for your children to enjoy and learn in a fun-filled natural setting. So what are you waiting for? Enroll in the desired time slot and put your children's energies to good use!