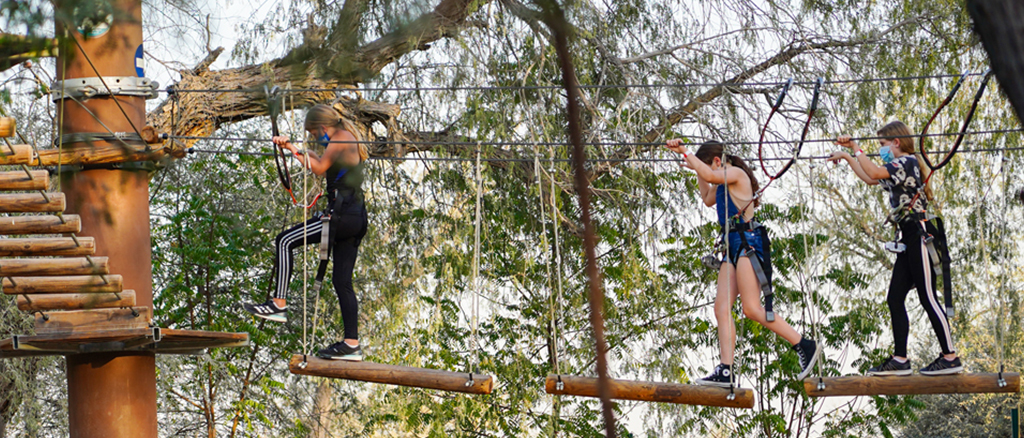 Famous for sky-touching marvels, man-made archipelago and the tallest building in the world, the emirate of Dubai is no less than a dream destination. It is home to several attractions and activities that are known to offer a truly out-of-the-world experience, be it dining at the tallest restaurant in the world or enjoying the dancing fountain show.
However, apart from these lavish experiences, there's another side of Dubai that not many people get to explore. It's hard to imagine enjoying the beauty of nature in a vast desert such as Dubai, but Aventura Parks has made it possible. And the best part – you wouldn't even have to travel a lot to reach this destination. It is located in Mushrif Park, which can be accessed quite conveniently from popular communities in Dubai.
It is the largest outdoor adventure park, not just in the UAE but the entire Middle East region. Suffice it to say, your trip to Dubai will be incomplete if you haven't visited this beautiful park.
Reasons to Visit Aventura – The Best Adventure Park in Dubai
Take a look at some of the major reasons why you should definitely add Aventura Parks to your list of things to do when visiting Dubai:
Activities for Everyone
At Aventura Parks, everyone is welcome. There's no age limit when it comes to visiting this adventure park. This outdoor facility has activities for everyone. Whether you're with your family, group of friends or a solo adventurer, you can head to this park and have the time of your life.
The park has activities available for people of every age, even your little ones aged between 4 and 8. They can enjoy unharnessed activities under professional supervision and have some fun. However, it is important to know that parents need to accompany their kids to this activity.
Other activities available at Aventura Parks include:
Rangers for your children with a minimum height of 1.15m
Explorador for families. Participant must have a minimum height of 1.25
Aventura for youngsters and adults with a minimum height of 1.40m
Thriller for adults with a minimum height of 1.40m
Extreme for 16 years and above. The minimum height of participants should be 1.60m
Apart from the aforementioned activities, there are numerous one-circuit experiences and challenges as well that can be enjoyed by everyone.
Focus on Physical Fitness
Who says you can't have fun while working on your fitness? At this adventure park, you can improve your physical strength without having to lift those heavy dumbbells and running for hours on the treadmill.
While all the other attractions in Dubai focus on adventure and sightseeing, Aventura is geared towards improving one's fitness and physical strength in a rather unconventional way. All the activities and challenges for visitors to enjoy at this outdoor park are designed to boost physical fitness. This is why this place can be considered the best choice if you want to take a break from your monotonous lifestyle, where you are surrounded by tech gadgets all the time.
Learning Opportunities for Kids
Kids today spend most of their time using gadgets. This inevitably limits their growth and learning ability. Using smartphones and other such gadgets for an extended period can impact their overall wellbeing as well.
Those living in Dubai or who are here for some time can make use of this amazing opportunity Aventura Parks has. We organize life skills camping programs for kids. During this program, they can learn different skills and take part in diverse activities. It's a chance for them to create memories that are going to stay with them forever, learn skills that will help them in shaping their personalities and get a sense of achievement that will make them more confident.
If you are in Dubai for a limited time, you can get your kids enrolled for one day or two days' program. The spring program commences from 28th March and will continue till 15th April 2021. Kids aged between 6 and 14 can take part in these programs.
An Opportunity to Spend Time "Together"
If there's one thing that most people are deprived of in this modern era, it is quality family time. Due to busy schedules, family time has taken a hit. However, this adventure park provides you with an opportunity to make up for the lost time and spend some quality time together. There are many activities at Aventura that are designed specifically for families to take part in together.
A Perfect Adventure Park to Celebrate Events
If your birthday happens to fall during your scheduled trip to Dubai, the best way to make it even more special is by celebrating it at Aventura. We offer special birthday parties for people belonging to any age group. Choose from one of our birthday packages and celebrate your special day in a different yet exciting manner.
Apart from birthdays, we can also host other types of events and occasions as well.
Budget-Friendly Rates
You can add Aventura to your things to do in Dubai list without having to worry about disturbing your budget. All the activities, experiences and challenges we offer are available at budget-friendly rates.
Final Thoughts
In a nutshell, if you want to explore the other side of Dubai that is more fun, adventurous, and brings you closer to nature, book your tickets to Aventura Parks. You will surely not regret this decision of visiting this adventure park. Even if you do not wish to take part in any of the physical activities at the park, you can simply unwind by enjoying the beauty of nature or relax at Café Chris.