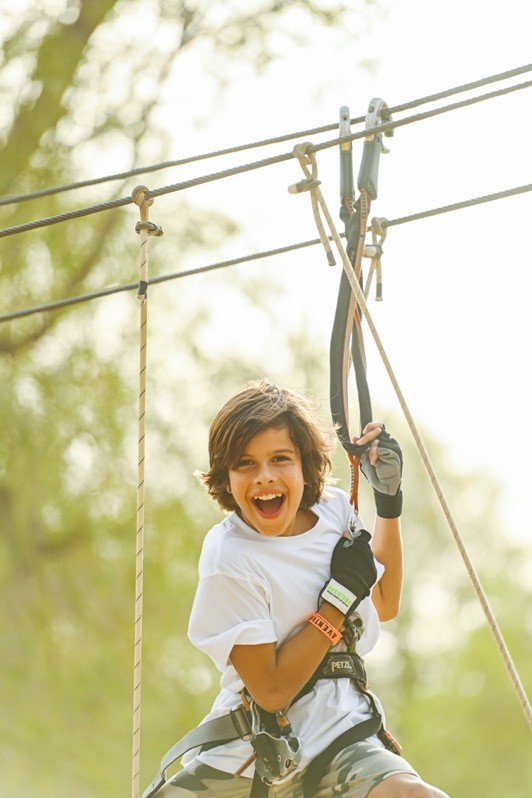 [September 13, 2023, Dubai, UAE] – Aventura Parks, the UAE's largest outdoor zipline and obstacle course playground, is thrilled to announce its reopening on September 15 for the season. The park welcomes back the community offering new experiences and activities, a flash sale, and delicious dining options at The Ghafé restaurant.  
This season, learning goes beyond with Aventura Park's new Kickstarter experience for children aged 5-8 years. The program encourages kids to disconnect from technology and reconnect with nature, through various features. There are 21 circuit games promoting physical activity and problem-solving, The Nature Lab providing interactive experiments to learn about the natural world, a timed Ground circuit, and a free trampoline ride. The price is AED 149 per child above 1.15M for up to 3 hours. 
Guests are invited to experience the tranquility of the Ghaf tree forest, take a peaceful walk amidst towering trees and enjoy the beauty of nature. Thrill-seekers can challenge themselves on the park's 80 obstacle courses and 24 ziplines. The perfect adventure is paired with a delicious meal at The Ghafé Restaurant, taking in the stunning views. There is also a 3-day flash sale from September 15th, with tickets for only AED 99 valid till November 22nd.
The Ghafé restaurant eagerly awaits to greet its guests with a delightful new menu. Coffee enthusiasts can now indulge in their favourite beverage, expertly paired with the delectable local dessert, "Logaymat". Served with a variety of toppings including Nutella, cardamon, or the classic date syrup, this dessert is bound to satisfy sweet cravings. Operating daily from 9am to 10pm, The Ghafé also offers a scrumptious selection of light bites, breakfast options, lunch and dinner meals, including salads, burgers, pizzas, gourmet sandwiches, pasta, refreshing smoothies, and more.
For more information on the park offers and tickets, or to make a booking, please visit www.aventuraparks.com or keep up with them on social @aventuraparks.
About Aventura Nature Adventure Park, Dubai's largest zip line park
Aventura is a unique destination in Dubai where friends, families, and teams experience adventure, nature, and fun in a beautiful Ghaf tree forest. Spanning 35,000 sqm, the facility boasts an Adventure Park with five circuits of over 80 obstacles and 24 zip lines, a team building park, a discovery play area for kids, and a lovely Nature Trail showcasing the flora and fauna of the UAE. Our mission is to inspire everyone while fostering learning through play. We welcome visitors from around the world, from different religions, races, and conditions, to enjoy the thrill and fun of the largest outdoor adventure park in the Middle East.