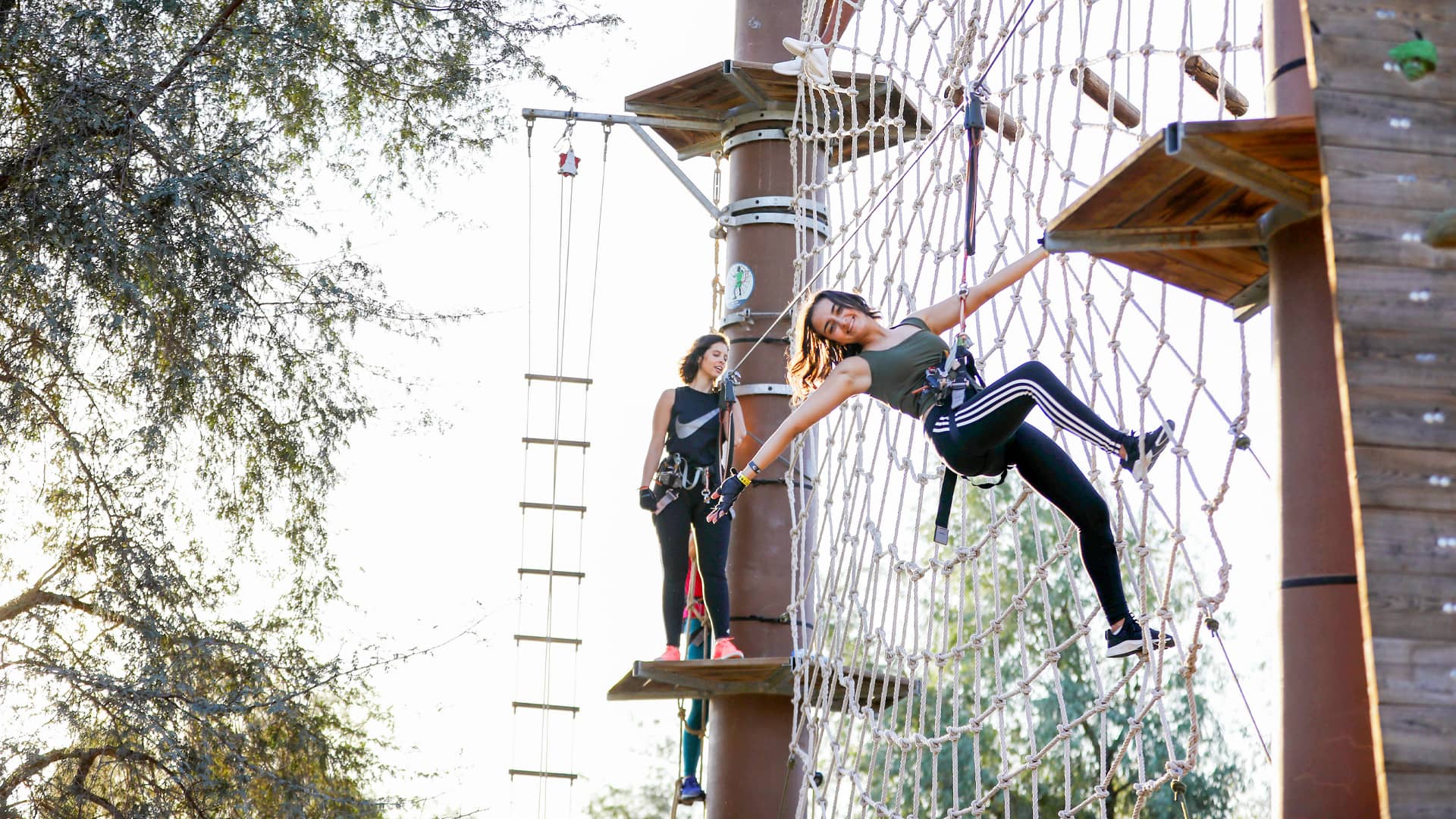 Being courageous and strong is feminine. Being confident and sporty is feminine. Yet, we live in a world where stereotypes have created barriers for women who have wild dreams. Women strength is a beautiful thing, and if people have insecurities about that, it is their problem.
On Women's Day 2022, Aventura Parks, the largest outdoor adventure park in Dubai, provides them with an opportunity to channelize their inner strength. It is high time to break free of the stereotypes and summit the highest peaks of the adventurous mountains!
Aventura Parks – Marching for Women Empowerment
The team of Aventura Parks invites women with open arms and cheerful smiles to remove scorns, barriers and hurdles from their paths. So, bring your group of friends and family to enjoy connecting with nature and unleashing the inner strength because it has slept long enough.
Aventura Parks celebrates Women's Day from March 1st to March 31st, offering a 20 percent discount (except for Nature Trail and Trampoline). You can enjoy this discount every Monday, Wednesday, and Friday (excluding public holidays) throughout the entire month. 
So, engage yourself in a ropes course or a zipline through a lush Ghaf forest to uplift each other and embrace your strength. It will assist you to connect with each other through shared experiences!
Benefits of Adventurous Activities at Aventura Parks
One of the best adventure places in Dubai, Aventura Parks is packed with thrilling and adventurous activities that yield multiple benefits for women. While our perspectives may be broadened, our outdoor activities set in nature may have an even greater impact. Adventure empowers women in numerous ways, and we are here to support them.
Here are some of the benefits of taking part in outdoor activities at Aventura Parks:
1.
     

Build Confidence

Engaging in outdoor activities is one of the most empowering experiences one can have. This is especially true for a woman who has been confined to the walls of a house. So, this women's day, take bigger and more confident strides by participating in Aventura's outdoor activities.

When you step outside of your comfort zone, you must trust your instincts and be confident in your decisions. Your strength will guide you to embrace opportunities that may test your personal boundaries. And ultimately, you will realize that things you were worried about weren't so scary after all.
2.
     

An Opportunity to Break Barrier For Solo Travel

At Aventura Parks, we acknowledge the dilemma that safety concerns are the main obstacle in the path of women. People have fueled the stereotype that women's strength is incomparable to men's, and they are not physically strong enough to set out for adventurous trips.

Therefore, Aventura has created an environment where experiencing challenging obstacles and thrilling activities will eliminate that fear. The management has strictly reinforced their safety measures to build a friendly atmosphere that caters to everyone.

Moreover, urban spaces are predominantly masculine. It creates subconscious barriers to travel for women. Aventura Parks' goal is to start making spaces safe for everyone. Their team creates gender-neutral destinations where women can enjoy themselves.
3.
     

Improve Psychological Health

Engaging in outdoor activities has a significant positive impact on women's feelings of freedom, creativity, happiness, and self-development. It can be a liberating experience because it breaks down societal and cultural barriers that make it taboo for women to travel alone.

It can make you more fierce, and improve your problem-solving skills. In addition, it allows you to be your true self, all of which boost your inner strength.
4.
     

Enhance Decision-Making Strength

As it turns out, women's brains are more efficient than men's at dealing with the stress hormone cortisol. Neuroscience has discovered evidence that women bring unique strengths to decision-making when under pressure.

Unexpected challenges urge them to make rational and spontaneous decisions. Women at the decision-making table make less risky and more empathetic decisions in stressful situations. It is reason enough to have both men and women in the room to balance each other out when important business decisions must be made.

Leveraging on these findings, Aventura Parks has devised courses and activities that will fuel the femme strength on women's day.
5.
     

Time To Admire Their Physical Strength

Outdoor activities, one of the best ways to improve heart fitness and build physical strength, help you lose calories and stay fit within a few weeks of starting. Therefore, Aventura Parks is determined to take away your gadgets and improve your health.

Furthermore, we're talking about having fun with your friends while playing, not hardcore training. You're fine as long as your heart is racing and you are enjoying the game. Above all, you have friends who keep you motivated to rise up to the challenge.
Celebrate Women's Strength at Aventura
Aventura Parks feels honored to welcome women and have a thrilling experience on their special day. Outdoor activities amidst natural beauty will give them an adrenaline-rush to stand up against the odds and claim what is theirs. So, plan a visit today with your friends and enjoy Aventura Challenges that are surely going to enhance your inner strength.