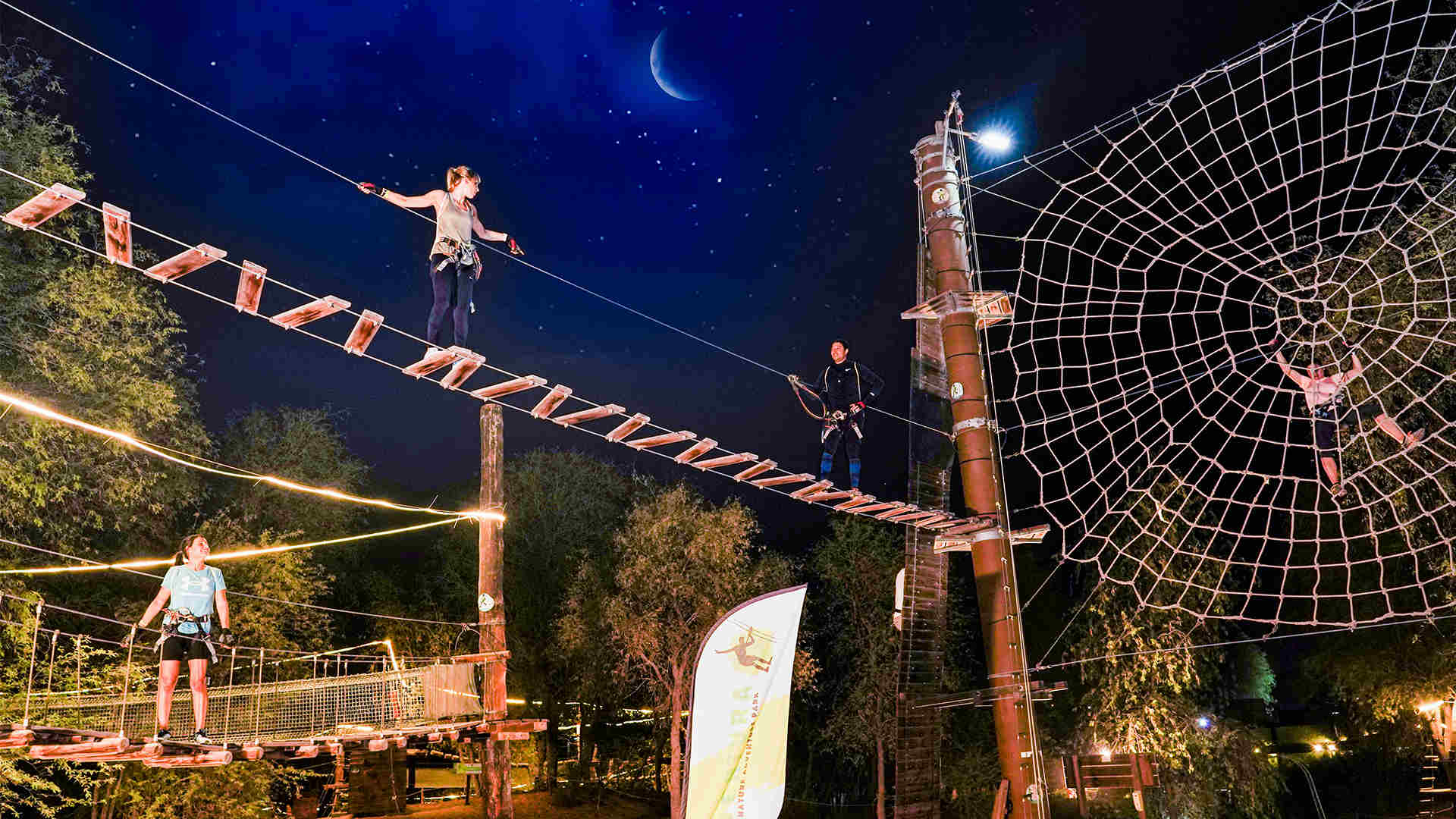 Ramadan is here! It is the door of mercy flung open for us to grasp as many blessings as possible while cleansing our souls and minds. No doubt, each individual feels a sudden surge of dopamine coursing in them while fasting. Thus, happiness is no longer a drop away in this holy month.
This holy month showers us with emotional warmth, mental strength, and physical fitness. It feels as deep as the summer sun, yet so cool and comforting. Hence, the notion of Ramadan aligns perfectly with the objective of Aventura Parks!
Aventura Parks – Fortifying Lives Through Nature This Holy Month
Aventura Parks celebrates Ramadan exclusively, elevating the blissful experience by placing you amidst nature. Rustling leaves, chirping birds, calm waters, and updraft winds nurture you both emotionally and mentally, a perfect add-on this month. Understanding the strength of this conception, this adventure park urges you to embrace unity and connection with a glint of thrilling adventure!
Our adventure-packed park welcomes you to indulge in outdoor activities from 4 pm to 10 pm. In addition, Café Chris will be open from 3 pm (park closed on Tuesday only). This changed timing aims to accommodate your routine during fasting.
During these Ramadan timings, you can enjoy the adrenaline rush stimulated by the Leap of Faith challenge for free! These 30 minutes spice up your bland routine with a pure blend of courage and excitement. All you have to do is climb a height of 1.4 meters, make a spring jump, and hit the ball (offer applicable after the purchase of an adventure park ticket).  
The fun does not conclude here. You can partake in art and crafts stations as well as community space decorations. It is always a humble act to thank the community with sweet treats and colors during Ramadan.
Ways Aventura Can Make You Healthier And Happier This Ramadan 
Participating in activities organized in green spaces, especially in the refreshing colors of Ghaf Tree forest, is one of the fastest ways of improving your health and happiness. Aventura's outdoor play area can liberate you from stress and elevated pressure levels. Together with the blessings of fasting in Ramadan, you can collect more benefits than one can only fathom. Hence, this holy month will only set you free!
Let's delve in further to praise the unparalleled advantages of embarking on adventures in Dubai at Aventura Parks:
1.
Helps Fight Depression And Anxiety
In the battle with depression and anxiety, nature's remedial influence has yielded positive outcomes. For instance, a study from Stanford university concluded that participants who engaged in a natural setting demonstrated less neural activity in the brain areas designated for depression than participants who walked in an urban environment.
Immersion in natural surroundings not only reduces the chance of being depressed in the first place but also tackles the symptoms of depression. Moreover, when paired with physical exercise, nature's calming sights and sounds served to improve participants' moods and lower anxiety symptoms.
2.
Reduces Mental Fatigue
Overdoing it at work, overdoing it on the PlayStation, and overdoing those marathon Game of Thrones viewing sessions are just a handful of the ways we exhaust our brains. Because of these habits, as well as the negative effects of other stimuli (phones, advertising, traffic, bosses), our brains seldom have time to turn off and normalize, which is precisely what they do when we go outside.
Additionally, this impact is elevated during Ramadan when we spend major time fasting, cooking delicious meals, and preparing iftar parties to entertain dear ones. Also, our working hours and screen time is significantly reduced during this Islamic month because our brain has the opportunity to rewind.
3.
Reduces Inflammation
Inflammation contributes to autoimmune disorders, depression, cancer, and inflammatory bowel disease. However, the causes and symptoms of inflammation reduce when you spend time at an adventure park.
This benefit will become unrivaled when you are fasting. In Ramadan, fasting protects us from metabolic diseases, obesity, and associated disease. Consequently, it improves overall fitness.
4.
Encourages Mindfulness
The bad news is that stressors like phones, tablets, and laptops are difficult to ignore these days and may wreak havoc on our health. The good news is that getting out of those stressors' strongholds (offices, living rooms, etc.) and into a more natural environment is now possible as Aventura welcomes you in a world of greenery and outdoor adventures. It not only guarantees a fun time with your friends and family but also positively influences stress levels.
Join Us In An Adventure This Ramadan Kareem!
Aventura Parks maximizes the blessings of Ramadan through its exclusive offer. It is full of fun, excitement, adrenaline and emotional and physical health. This unusual yet prettiest prescription will cleanse your mind of stress, depression, and unnecessary anxiety. Eventually, you will have something to look forward to and try something new to be successful about!