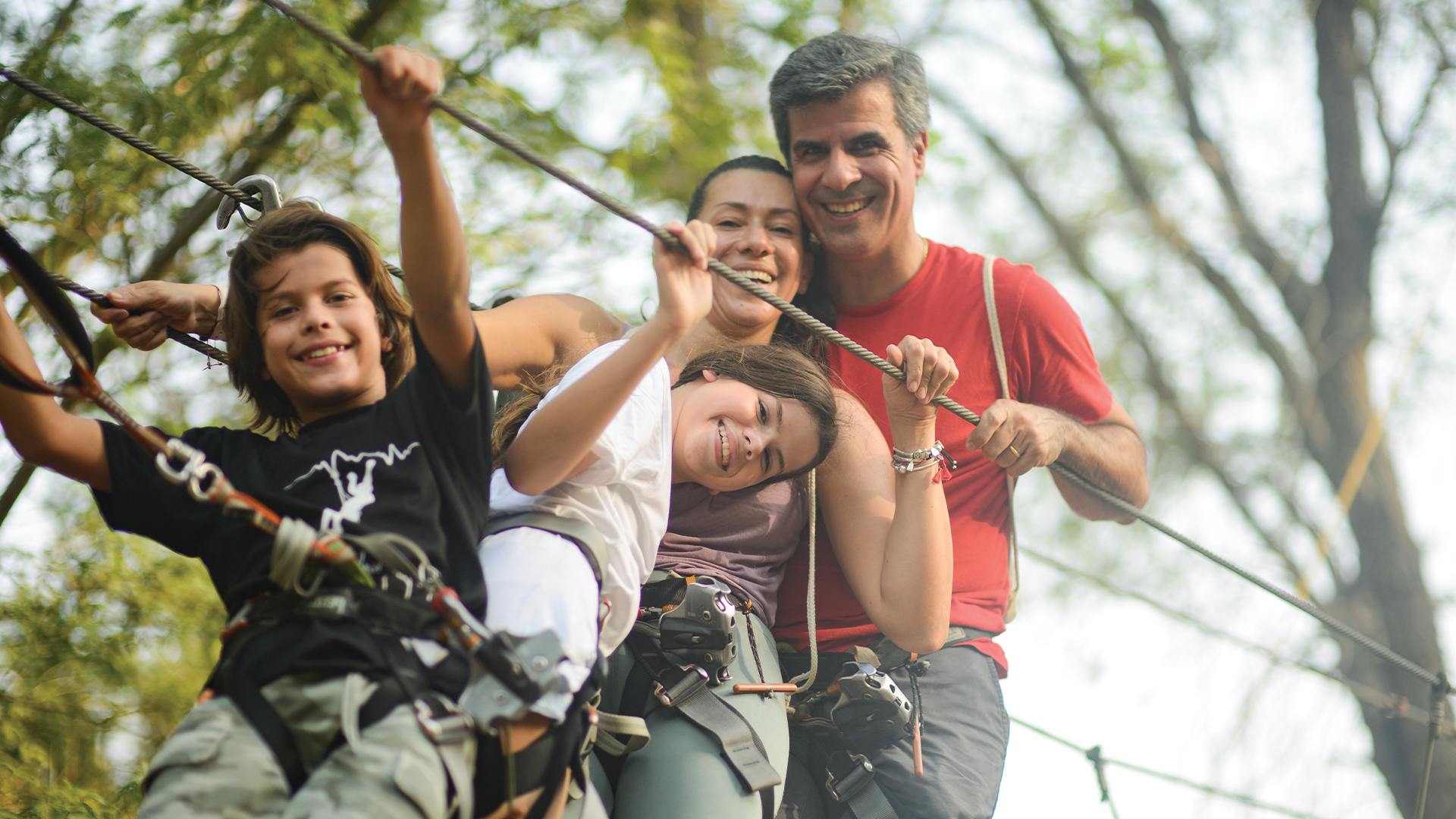 Work, school, and post-school activities have replaced family time which plays a crucial role in a child's upbringing. Parents being occupied with busy working hours and social gatherings leads children to excessive use of electronic gadgets and too much screen time.
The results are a lack of cognitive growth, weak communication skills, lower self-esteem, and a lack of sense of belonging, causing the inability to connect with others.
It goes without saying that family time is important. It helps children learn family values and traditions and makes positive memories that stay in their minds forever. In fact, time is the most valuable thing parents can give to their children. So, utilize family time as an escape from daily deadlines and an opportunity to nurture children in the shadow of love, happiness, and satisfaction.
Having said that, how can families make this time a blend of fun and skill development? Aventura Parks has got you covered. We offer exciting activities for adults and kids of all ages, making your visit an amalgamation of entertainment and development. Suffice it to say, family time at Aventura Parks helps promote strong family bonds by providing many golden opportunities.
Raise A Happy Child By Spending Time Together
Being surrounded by love makes kids good human beings and a mainstay for effective parenting. The traditional family feast on special occasions, a day out with family on weekends, and exciting indoor activities have been lost behind the fast-paced life of the modern days. As said above, time is the best thing parents can give to their kids to make them the best version of themselves.
Let's discuss the benefits family time provides to raising a good child:
1.
Make Kids Bold As Brass
The sense of being valued by parents develops a sense of self-acceptance in kids, thereby making them confident in life outside their comfort zone. Family time at Aventura Parks is a golden opportunity to participate in different activities and develop positive self-esteem.  
2.
Nourishes Family Bonds
Participating in different activities as a family nurtures emotional bonding and has a great influence on children's personalities. Sparing time for them and sharing hobbies and other interests help form strong family ties. The main reason is to foster a sense of belonging.
3.
Better Academic Performance
Studies have shown that children who spend time with family tend to have good academic performance compared to those whose parents are busy with their own interests. Helping children in their studies makes them strive to perform better and achieve success as they grow.
4.
Enhance Communication Skills
Promoting communication enhances a child's communication skills helping them share their opinions confidently in public. Discussing the daily routine with them helps to foster open communication and makes them feel free to talk about anything and everything.   
5.
Adopt Good Behavior
Children learn what they see and practice from childhood. By spending time with them, you can make an example of good behavior which they will implement in other relationships in life.  
Fun Activities To Have A Whale Of A Family Time At Aventura Parks
Aventura Parks offers exhilarating activities for everyone providing chances to participate and make stronger bonds. A blend of physical and cognitive growth, family time at Aventura Parks is a means to enjoy numerous activities based on different challenges.
Let's take a look at some activities at Aventura Parks and how it helps families to spend quality time:
1.
Adventure Park
Offering up to three hours of fun, Adventure Park offers five circuits, each having exhilarating ziplines and various obstacles, providing the opportunity to make memories of family time at Aventura Parks. Let's discuss these circuits briefly:
A.
Rangers
With a lower difficulty level, rangers is made up of easy challenges specially designed for younger kids. Parents can observe their children having fun while taking a stroll through the forest.
B.
Explorador
With 17 different challenges, explorador is designed for families wishing to participate together in treetop adventures and promote strong bonds by building trust.
C.
Thriller
With the difficulty level on the lower side but greater height, the thriller circuit contains 9 consecutive ziplines connected by two bridges with a treat of riding on a 166-meter longer zipline in the end. Parents can take part with children or cheer them up by spreading arms in the air.
D.
Aventura
Now here, the difficulty level spikes up. Aventura offers three exhilarating ziplines in a row. Giving an adrenaline rush, this activity helps develop courage and confidence in children.
E.
Extreme
It is the most daring circuit of all. Offering a 25 meter Tarzan jump and surfboard through the trees, extreme is the best circuit for daring teens in the family.
2.
Aventura's Chill Zone
From board games for brain exercise to arts and crafts for practicing creativity, the chill zone offers fun and entertaining activities for families to spend a wonderful family time at Aventura Parks amidst ghaf trees. Furthermore, you can share laughter and joy and strengthen family bonds by taking part in competitive games at the foosball table.
3.
Nature Trails
Remember talking about skill development? That is exactly what nature trails offer. Giving kids an opportunity to explore the flora and fauna of the UAE. This educational and fun guided nature walk in Mushrif Park helps little ones discover interesting facts about plants and animals, along with the opportunity to interact with Aventura's friendly pets.
The Takeaway
Family time at Aventura Parks is the best means to enjoy each other's company and have fun. These engaging and entertaining activities give a sense of gratification, development, and endless moments for strengthening bonds.