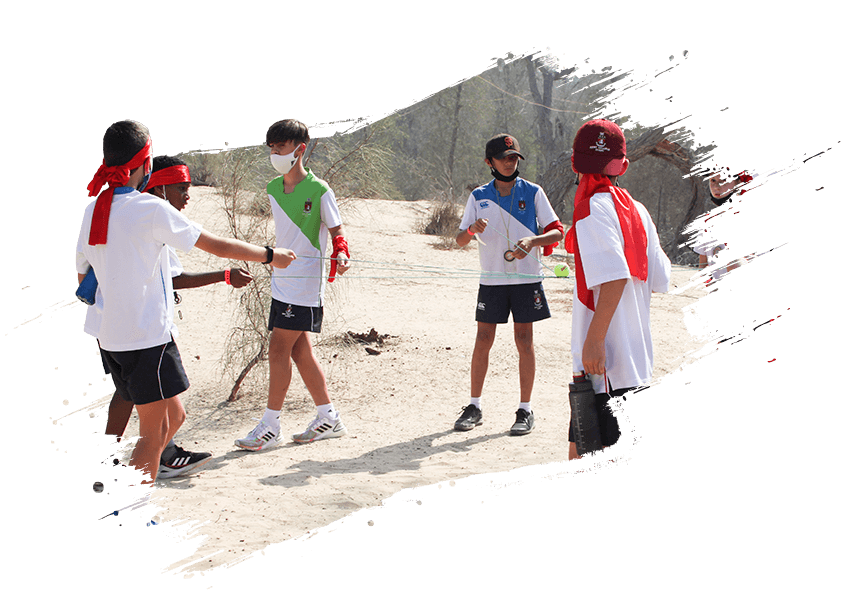 Although the classroom is a great place to learn, there's something special about experiencing nature firsthand. That's where field trips come into play with a well-rounded infotainment experience amidst nature. 
From educational empowerment to personal development, school field trips at Aventura Parks attend it all. The goal is to promote hands-on learning with a newfound exposure to nature. Therefore, it became a wonderful opportunity for educational institutions seeking a unique academic experience for their pupils. 
With us, students can explore the wonders of Emirati culture, history, and nature (fauna and flora), all while enjoying the great outdoors. The benefits of field trips extend beyond academic learning and can lead to improved psychological and behavioral outcomes. 
Major Attractions Of Field Trips At Aventura Parks: Our Top Picks! 
School field trips at Aventura Parks have something for everyone. At the same time, the price range for the programs is economical, too, starting at AED 200 per student.
With various activities and adventures, students are sure to enhance their cognitive and collaboration skills. Therefore, schools can select a package that fits their preferences, interests, and budget. 
Let's look at some of the major highlights from the field trips at Aventura Parks that never fail to amaze! 
The program offers thrilling rides amidst the gorgeous Ghaf Tree Forest for students aged six and above. It allows kids to partake in transforming high-rope obstacles and thrilling ziplines. 
The goal is to strengthen them with each adventure while promoting practical learning. You may rest assured as these enthralling activities are 100% safe and secure for participants. 
Facilitated Team Building Activities 
Do you ever feel like your students need to improve their communication skills? If so, our team-building activities may be what you need.
Field trips at Aventura Parks host team-building program challenges that allow students to work together to cross high and low ropes. The training utilizes their problem-solving, leadership, and communication skills. 
Aventura Sustainability & Adventure
Sustainability has been the talk of the town, and it's something we all must familiarize our kids with. Not only does it help to create a safer environment, but it also makes them more empathetic towards nature. 
The Aventura Sustainability program is a great initiative that aims to educate students of all ages about the indigenous flora and fauna of the UAE. Throughout the program, students gain a deeper insight into species survival, water preservation, and natural life. 
When it comes to getting closer to Emirati flora and fauna, Aventura Discovery is your go-to option.
The adventurous area, suitable for kids aged two to seven years, is designed to strengthen their bond with nature. The goal is to enhance their scientific knowledge and physical strength as they explore the area to discover various types of plants and trees.
Overnight Camping Program 
The overnight camping program in field trips at Aventura Parks is a highlight of the field trips. Set amidst the Ghaf Tree Forest, the program challenges participants and helps them develop essential life skills such as survival, sustainability, and well-being.
As students set up their tents and prepare meals, they are pushed out of their comfort zone and encouraged to learn basic life skills. 
Besides the programs mentioned above, students may immerse in Science & Nature, Amazing Race, Competitions and Science Made Fun, and more. These programs tend to revive their creativity juices as they make the most of their cognitive and physical strength.
What To Expect From Field Trips At Aventura Parks?
Here's a rundown of why investing in field trips at Aventura is worth it for education institutes!
Promotes Practical Learnings
There's no denying that textbook-based learning can't replace the value of practical wisdom. The real world is more focused on practical knowledge rather than theoretical knowledge. 
Field trips at Aventura Parks understand this and allow pupils to apply what they have learned in the classroom. These trips offer activities that make learning more enjoyable while nourishing them academically. 
Creates Long-lasting Bonds
While competitive nature isn't uncommon in a classroom, field trips at Aventura strengthen the bonds between peers who may have otherwise been at odds.
These experiences allow students to rely on each other and seek teacher guidance. As a result, it fosters a stronger sense of comradeship that goes beyond the trip and to their classroom settings. 
Boost Personal Development 
Field trips at Aventura Parks offer much more than just educational empowerment and fun. The program focuses on personal development, encouraging kids to discover their hidden potential through self-exploration and overnight camping. 
Along with camping, Adventure Park Fun is an exciting activity emphasizing creativity and problem-solving skills. As students challenge themselves and push their limits, they discover a better version of themselves.
Exclusive Learnings Amidst The Nature
At field trips at Aventura, programs like Science & Adventure encourage scientific activities among the students. The idea is to boost the creativity, innovation, and critical thinking of students, leading to academic growth. 
On the other hand, overnight camping stimulates hands-on learning to enlighten students about survival. During the program, pupils may learn about water-saving, preservation, and survival practices with sustainability. 
While memorizing lessons can be harder, it may slip off the student's mind if not practically implemented.
For example, learning about plant reproduction may not stick in their minds unless they witness the concepts coming to life. Likewise, outdoor adventures during the field trip allow them to explore the flora and fauna and encounter what they learned.  
Summing Up!
Simply put, there's no better classroom than the great outdoors, and field trips at Aventura Parks offer a range of activities that will engage and inspire your students. So why wait? Book your slots today at Aventura Parks and give your students the gift of a lifetime of learning!